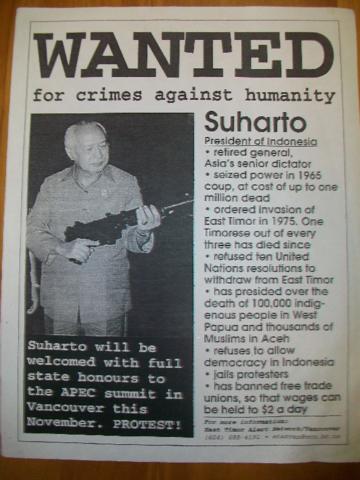 Area Identitas
Kode referensi
BU CAETAN-PUBS-Leaflets-5
Judul
Wanted for Crimes Against Humanity
Area Konteks
Nama Pencipta
(1986-2000)
Sejarah Administratif
East Timor (Timor-Leste) was invaded in 1975 by Indonesia and occupied by the Indonesian armed forces until 1999, with widespread resulting human rights violations. The East Timor Alert Network (ETAN/Canada) was founded in 1986 to raise awareness about the situation of East Timor and to change Canadian government policy, which accepted Indonesian rule.
Sumber akuisisi atau transfer langsung
Area Isi dan Struktur
Cakupan dan isi
Leaflet published by ETAN/Canada in 1997 prior to President Suharto of Indonesia's visit to Vancouver, 1 p. Contains a brief description of his crimes against humanity.
Kondisi dari area akses dan penggunaan
Penentuan Kondisi reproduksi
Catatan Bahasan dan Naskah
Karakter fisik dan persyaratan teknis
Area Materi Arsip Sekutu
Keberadaan dan lokasi dari original
Original found at McMaster University
Keberadaan dan lokasi dari salinan
Berkas Arsip yang berkaitan
Deskripsi Area Kontrol
Tanggal penciptaan revisi pemusnahan
Metadata Objek Digital
Terupload
1 Mei 2019 10:54
Bagian hak Objek Digital (Master)
Bagian hak Objek Digital (Reference)
Bagian hak Objek Digital (Thumbnail)