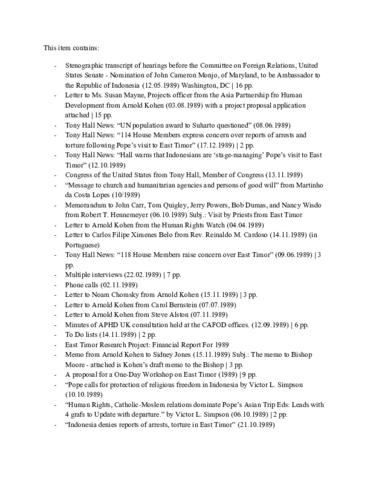 Zona de identificação
Código de referência
BU USTHP-KHN-DOCS-15
Título
1989 Various documents
Zona do contexto
Nome do produtor
(1975-2000)
História administrativa
The Humanitarian Project was founded by Arnold Kohen, with support from figures such as Anderson, Bishop Paul Moore Jr of New York, and others.
Fonte imediata de aquisição ou transferência
Zona do conteúdo e estrutura
Âmbito e conteúdo
Various documents that include memorandums, letters and documents written in 1989.
This item contains:
Stenographic transcript of hearings before the Committee on Foreign Relations, United
States Senate - Nomination of John Cameron Monjo, of Maryland, to be Ambassador to
the Republic of Indonesia (12.05.1989) Washington, DC | 16 pp.
Letter to Ms. Susan Mayne, Projects officer from the Asia Partnership fro Human
Development from Arnold Kohen (03.08.1989) with a project proposal application
attached | 15 pp.
Tony Hall News: "UN population award to Suharto questioned" (08.06.1989)
Tony Hall News: "114 House Members express concern over reports of arrests and
torture following Pope's visit to East Timor" (17.12.1989) | 2 pp.
Tony Hall News: "Hall warns that Indonesians are 'stage-managing' Pope's visit to East
Timor" (12.10.1989)
Congress of the United States from Tony Hall, Member of Congress (13.11.1989)
"Message to church and humanitarian agencies and persons of good will" from Martinho
da Costa Lopes (10/1989)
Memorandum to John Carr, Tom Quigley, Jerry Powers, Bob Dumas, and Nancy Wisdo
from Robert T. Hennemeyer (06.10.1989) Subj.: Visit by Priests from East Timor
Letter to Arnold Kohen from the Human Rights Watch (04.04.1989)
Letter to Carlos Filipe Ximenes Belo from Rev. Reinaldo M. Cardoso (14.11.1989) (in
Portuguese)
Tony Hall News: "118 House Members raise concern over East Timor" (09.06.1989) | 3
pp.
Multiple interviews (22.02.1989) | 7 pp.
Phone calls (02.11.1989)
Letter to Noam Chomsky from Arnold Kohen (15.11.1989) | 3 pp.
Letter to Arnold Kohen from Carol Bernstein (07.07.1989)
Letter to Arnold Kohen from Steve Alston (07.11.1989)
Minutes of APHD UK consultation held at the CAFOD offices. (12.09.1989) | 6 pp.
To Do lists (14.11.1989) | 2 pp.
East Timor Research Project: Financial Report For 1989
Memo from Arnold Kohen to Sidney Jones (15.11.1989) Subj.: The memo to Bishop
Moore - attached is Kohen's draft memo to the Bishop | 3 pp.
A proposal for a One-Day Workshop on East Timor (1989) | 9 pp.
"Pope calls for protection of religious freedom in Indonesia by Victor L. Simpson
(10.10.1989)
"Human Rights, Catholic-Moslem relations dominate Pope's Asian Trip Eds: Leads with
4 grafs to Update with departure." by Victor L. Simpson (06.10.1989) | 2 pp.
"Indonesia denies reports of arrests, torture in East Timor" (21.10.1989)
Amnesty Concerned about East Timor Arrests (19.10.1989)
Congressional Record - October 12th, 1989 | 4 pp.
Expression of support for the Apostolic Administrator of Dili by the clergy of East Timor
(07/1989)
Memo for Bishop Moore written by Arnold Kohen (1989)
Letter to Carol Bernstein Ferry from Arnold Kohen (11.07.1989) | 2 pp.
Congress of the United States - Tony Hall (18.05.1989) | 2 pp.
Zona de condições de acesso e utilização
Características físicas e requisitos técnicos
Instrumentos de descrição
Instrumento de pesquisa gerado
Zona de documentação associada
Existência e localização de originais
Originals found at Bishop's University.
Existência e localização de cópias
Unidades de descrição relacionadas
Zona das notas
Identificador(es) alternativo(s)
Pontos de acesso
Pontos de acesso - Assuntos
Pontos de acesso - Locais
Pontos de acesso de género
Zona do controlo da descrição
Datas de criação, revisão, eliminação
Objeto digital (Matriz) zona de direitos
Objeto digital (Referência) zona de direitos
Objeto digital (Ícone) zona de direitos