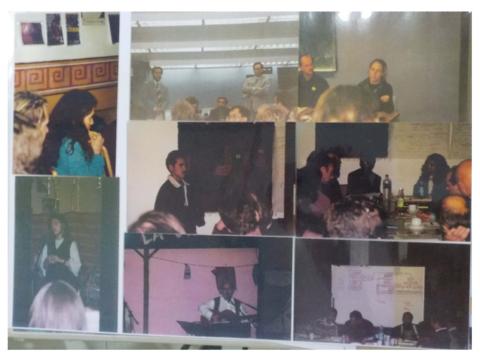 Identity area
Reference code
BU TLISE-DOCS-3
Title
Various documents 3
Extent and medium
Textual Record and Photographs. Seventy-six pages.
Context area
Immediate source of acquisition or transfer
Content and structure area
Scope and content
This document contains sixty-six separate documents.
It includes:
A page of photographs from the OPORTO Conference in Sydney (June 1996). The top centre photo is of Fretilin. Top Right is Jim Audrey (Author of Free East Timor) and people from ACFOA Human Rights Office.

The cover of "A Humble Backbencher - The memoirs of Ken Fry, MHR Fraser, 1974-1984" 2002.

Various pages of "Timor Nia Klamar" 1997.

A page with two photographs. The first is the cover of the 'National Aboriginal Newspaper.' The second is the Canberra protest against British Aerospace export to Indonesia, 1996.

A flyer for 'Benefit Night for East Timor' which will take place on November 24th, 1999 in Sydney.

Two documents. The first is from the Catholics in Coalition for Justice and Peace about the Seminar with Nobel Peace Prize Winner Jose Ramos Horta. It gives a short description why he won his Nobel Peace Prize and when the event will take place. The second is the invitation. He will speak on May 26th 1997 in Strathfield. The topic is "East Timor and Its Future." | Two pages

A photograph of a protest. Darwin Action re-enactment of Santa Cruz Massacre, Protest. The photo is from Rob Wesley-Smith.

A flyer for 'East Timor Women's Benefit Night' on May 28th, 1996. It was organized by Jefferson Lee and Timor Special Projects on behalf of AETA in Sydney.

A flyer for, "East Timor: Its Future in the Asia Pacific" a public education and dialogue conference from June 21st - June 24th 1996 in Sydney. Some examples of topics: Modern history of East Timor, East Timorese political organizations, Asia Pacific perspectives on East Timor, etc. There will be over 40 international guests. On the reserve of the flyer is registration clip-off. | 2 pages.

A flyer for 'A Benefit for East Timor' with Enda Kenny performing on November 3rd, 1996. The benefit is in conjunction with Australia East Timor Association and Timor Special Projects.

Two photographs. East Timor Solidarity were denied access to the National Folk Festival during a performance by Indonesian Embassy sponsored performance. Gareth Smith from Canberra 'People for Peace' organized a protest at the gate of the National Exhibition Centre - Venue of the Folk Festival (1996). Gareth Smith then a Canberra teacher disrupted Indonesian Embassy Open Day (August 17th, 1992) with a banner protesting Santa Cruz Massacre. The Embassy was forced to shut its doors. Gareth also forced closure of Air Show in Canberra when there was BAE. He was an observer in 1999 and now works with Byron Bar, NSW, Friendship Group.

A flyer for "Rebuilding East Timor" on August 30th, 2002. Some of the keynote speakers are, Frank Brennan, James Dunn, Shirley Shackleton, John Martinkus, Max Stahl and Martin Wesley-Smith. The conference was presented by AETA, RIAP (Uni of Sydney), Aidwatch, Otford Press, Friends of Maliana, Sydney City Council

A page of photographs. They look taken at a fair or conference. One of the photos is of a sign entitled, 'East Timor Handcrafts.' The descriptions are blurry.

A sign that reads, "War criminal allowed to "cut and run" by Iemma and Downer." Iemma is the Premier of NSW. Iemma who invited the Governor of Jakarta to Sydney for a business trade exchange. 2007.

A page of photographs. Blues Bands for Xmas Party, 'Friends of Maliana' fundraiser - Leichhardt, Jeff Lee's Backyard. 2008.

A page of photographs. Timor Activists in Sydney. Abel Catering at Manly - Oe-cussi event (?)

A page of six photographs entitled, 'some Media Workers in East Timor 2005.' One is of volunteers at the Max Stahl - National Audio-Visual Archive, Xanana Gusmao Reading room, Luke Gosling (Timor Lives CD) from Metinaro Army base with Unicef worker and Ina Bainbridge, co-editor of weekly English language paper 'Timor Sun,' Music programmer, community radio station Pante Oe-cussi.

A photograph of Bridie Kind, Sydney 'Boogie Queen' performing at 'Poptarts' Timor Benefit.

Two documents. The first entitled, 'Timor - Give them a radio, Mr. Fraser - Let them be heard, for pity's sake!' The second is Paul Kelly in Timor Leste in 2006 and a Newsletter from the Australian National Maritime Museum (Sydney) Fretilin Radio 1976-7 | 2 pages.

A poster entitled, "AUSTCARE East Timor Appeal" with the phone number to donate money to AUSTCARE. AUSTCARE Campaign Response to 2006 Crisis.

A page of photographs from "A Dirty Little War" book launch. July 2001.

A poem entitled, "Paddy McGuinness" by Denis Kevans. He wrote this poem to support Maliana Library Project in Sydney, Australia. 2000.

A page with two photographs. The first is Rob Wesley-Smith with Ego Lemos and Cinque D'Oriente in Darwin, 1st tour of Australia. The second is Dancers at the Fretilin Rally, July 2001 in a stadium.

A page of photographs. Top left: Timor Leste Embassy Opening Canberra December 2003. Bottom Left: Jeff Lee at Opening. Top Right: Dili, guest house - July 2001. Centre Right: Wes x Cinque D'Oriente. Bottom right: July 2001.

A page with two photographs. Dr. Stephen Feld (USA Universities) expert on West Papua with Rex. 2006.

A tribute collection in the newspaper with various articles stitched together about Denis Kevans. On the first page, it includes, "Witty Voice of a human generation," Three poems form 'the Great Prawa War' with a photo of Denis reciting at New Writers Centre, 1995 & 'Ah, white man, have you any sacred sites?' The second page is a compilation of poems that were compiled by Jeff Lee. 2005. | 2 pages.

A page of photographs from a Fretilin Rally, July 2001, stadium in Dili.

A flyer entitled, 'Free West Papua' for a benefit concert. West Papua Cultural group Tour of Australia 2005.

A page of photographs. Top Left: Timor choir reunion in Sydney. Middle Top: AETA meeting, late 2006. Top Right: Timor protest 2002, Sydney. Bottom Right: Andrew McNaughtan talking at AETA Rally in 1997.

A page of photographs. Coro Loro Sae Reunion - Sydney. The photos were taken by Jeff Lee.

A photograph of Bernadette Conndle, a volunteer in August 30th 2009. She is reciting Maliana poem.

A flyer for the Friends of Malian Benefit in Sydney in April 2009.

A photograph of Denis Kevans who was the leading political poet in Australia launching Xanana Gusmao collection of poems and Defence Statement from trial. Denis Kevans wrote "Your friends will never forget you" based on leaflet about Timor Leste. He also wrote a poem about conservative Councillor P.P. McGuinness who opposed Library project in Maliana. 2006.

The book cover for Xanana Gusmao's book. Timor Lives! speeches of freedom and independence with a foreword by the Honourable Justice Marcus Einfeld. 2006.

Cover of Juan Federer Book entitled, "The UN in East Timor: building Timor Leste, a fragile state. 2005.

A page of photograph from Marly - Oecussi Friendship Launch in Sydney 2009.

A page of four photographs all taken by Jeff Lee in July 2001. The descriptions read: Nuis for sale on Road sale - Dili to Baucau, Timor Troops on training at army base in Metinaro, Harold Maiche, ex-NSW Fretilin in Dili at basketball stadium before National TV debate, Da Silva at Football stadium with Melbourne Fretilin activist at Fretilin Rally.

A photograph of protesters at the Sydney Protest at Darling Harbour over the Timor Oil Issue in 2004. Their sign reads "Timor Gap Treaty Shame Australia."

A flyer for a Fundraiser for Maliana at The Balmain Town Hall. The fundraiser is to refurbish the town Gymnasium building. There will be performances by Timor Leste Cultural Groups and a showing of "A Hero's Journey." June 17th, 2007.

A page of photographs. There is no description to the photos. It seems to be a fundraiser or concert by the Australia East Timor Friendship Association. There are two photos of performers and others with a large crowd gathered.

A page of photographs of the 'Shooting Balibo" book launch in Sydney in May 2009.

A page of photographs from the 5th Andrew McNaughton Memorial Lecture December 2008. Lecture by Juan Federer, John Maynard (Producer Balibo), James Thomas.

A page of photographs. Left: Roger Kid tour organizer Cinquo D'Orielle 2009 and Jeff Lee at Womad Festival, May 2009.

A page of photographs of Paddy Kenneally WW2 'Sparrowforce' Funeral in May 2009 in Sydney with the Ambassador from Timor Lester, Hernani Coeller Da Silva, Abel

A protest poster outside National ALP Conference in Sydney, 2003. The poster reads, 'Give East Timor a fairer share of their oil and gas resources that can be done with the stroke of a pen'

A page of photographs taken in July 2001 at a book launch.The Bottom Right has Steven Sewell pictured. The descriptions are blurry.

A page of photographs from the "Pop Tarts" for Timor - Queen's Birthday 2005 Empire Hotel, Annandale, $820.00 raised for Alola Foundation Project in Maliana.

A page of photographs from Dr. Andy McNaughtan (inaugural) Memorial Lecture 2004

A photo of a women in Timor in 1974 from Elaine Briere's Book.

A page of photographs from a BBQ for Maliana at Jeff's place. 2008. Leichhardt.

A book cover of 'Shakedown - Australia's grab for Timor oil' by Paul Cleary. 2006.

A flyer for East timor Cultural Day (of Solidarity & Celebration) on May 17th. It includes the program of events which includes a Book Launch. 2004.

A flyer for Austcare entitled, "Join Austcare explore East Timor and at the same time raise much needed funds for Austcare's East Timor projects." It's a 10 day exploratory journey of East Timor escorted by Austcare's CEO Mike Smith. 2005.

A page of photographs with no description. The photos seem to be taken at an event that includes hiking or camping because there is multiple shots of mountains and of a map. 2007.

A page of photographs of Oecussi in July 2005 with "Don" from Melbourne.

A page of photographs. Bottom Left: Vaughan Williams, Darwin activist with Tim Fisher. Bottom Right: Lynelall Barry, also Marella Dod and Irena Steph.

A photograph of Hai Tien Lee with boy he photographed in Sydney Morning Herald that was shot in Dili (30 August 1999) This photo was taken at reunion two years later in August 2001. H.T.Lee was a journalist inside UN Compound who initiated petition to Ian Martin (September 1999)

A cover of a book entitled, "The East Timor Problem and the Role of Europe" which was Edited by Pedro Pinto Leite for the International Platform of Jurista for East Timor.

A book cover for, "East Timor - A Decade of Development"

A book cover for, "East Timor Develops" which seems to have been written by the Indonesian Government.

A pamphlet entitled, "Welcome to Indonesia East Timor" created by the Provincial Tourism Office Timor Timur in Dili. The contents are fairly blurry but it has two sides and four panels. | 3 pages.

A poster that reads, "This is what the Indonesian Army uses for birth control in East Timor" and pictured is a bullet.

A poster separated in two. The first half reads, "Wanted for crimes against humanity" and the Ex-Indonesian President Suharto (for genocide in East Timor and mass murder in Indonesia and for plundering' Indonesia's wealth for 30 years) and Indonesian President Habibie (for sending thousands more troops into East Timor and for more massacres in East Timor and Indonesia) are pictured. The second half reads, "Unwanted for crimes against democracy" with Foreign Affairs Minister Axworthy (for kowtowing to dictators and letting them dictate Canada's foreign policy) and Prime Minister Jean Chrétien (for putting trade ahead of human rights abroad and in Canada) are pictured. The poster was created by ETAN.

The East Timor Project - Volume 1, An Anthology: Essays on the Political Economy of East Timor by João Mariano de Sousa Saldanha. It only includes the cover and the table of contents. | 3 pages.

A flag that reads, "Stop!! Funding Genocide in East Timor" with a drawing of a bloody hand holding a bag of money that says 'U.S. Tax International Monetary Fund for President Suharto of Indonesia.' The bag of money is held over a dead woman. The flag was created by ETAN.

A bag with handcuffs in them. Original hand cuffs as used during the 1995 hand cuff actions in The Netherlands in solidarity with Timorese students who occupied the Dutch Embassy in Jakarta. | 2 pages.
Conditions of access and use area
Conditions governing access
Conditions governing reproduction
Language and script notes
Physical characteristics and technical requirements
Allied materials area
Existence and location of originals
Existence and location of copies
Related units of description
Notes area
Alternative identifier(s)
Description control area
Dates of creation revision deletion
Document metadata
Uploaded
November 29, 2020 1:41 PM
Document (Master) rights area
Document (Reference) rights area
Document (Thumbnail) rights area