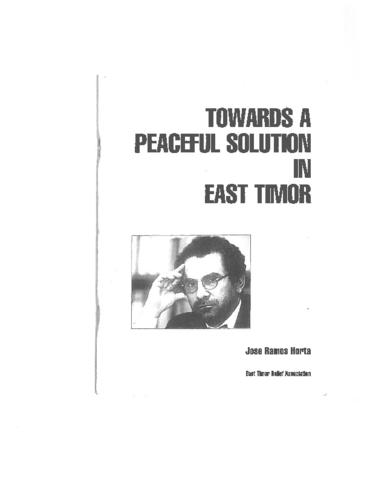 Área de identidad
Código de referencia
AUETRA-PUBS-2
Título
Towards a Peaceful Solution in East Timor
Área de contexto
Nombre del productor
Historia administrativa
ETRA was based in Sydney, Australia. Key figures: Agio Pereira, Ines Almeida. Published Matebian News.
Nombre del productor
(1987-2000)
Historia administrativa
CNRM was formed in 1987 as an umbrella independence movement to unite previous dispartate groups. For details see the CNRM self-description at http://www.ci.uc.pt/timor/cnrm.htm
Origen del ingreso o transferencia
Área de contenido y estructura
Alcance y contenido
Item is a transcript of the Chatham House Address to the Royal Institute of International Affairs given in London on April 23, 1996 by Jose Ramos Horta, published by the East Timor Relief Agency.
Contents:
About the Author
About CNRM (the National Council of the Maubere Resistance)
About ETRA (East Timor Relief Association)
Foreword by James Dunn
Introduction by Keith Suter
East Timor: The Struggle for Self-Determination and Its Future in Southeast Asia (Chatham House Address to the Royal Institute of International Affairs, London, 23 April, 1996)
A Road to Peace in East Timor: Parallels with the Israeli-Palestinian conflict (Article published in the Sydney Morning Herald on 25 January, 1996)
The CNRM Peace Initiative and the Israeli-Palestinian agreement on self-government (A paper written for the Peacemaking Initiatives for East Timor conference held at the Australian National University on 10-12 July, 1995)
The Peace Plan for East Timor (Address to the Foreign Correspondents' Club in Bangkok on 19th November, 1993)
Appendix: CNRM Representatives and Contacts
Área de condiciones de acceso y uso
Notas sobre las lenguas y escrituras
Características físicas y requisitos técnicos
Instrumentos de descripción
Área de materiales relacionados
Existencia y localización de originales
Originals found at Bishop's University.
Existencia y localización de copias
Unidades de descripción relacionadas
Área de notas
Identificador/es alternativo(os)
Puntos de acceso
Puntos de acceso por materia
Puntos de acceso por lugar
Puntos de acceso por autoridad
Área de control de la descripción
Fechas de creación revisión eliminación
Objeto digital metadatos
Tamaño del archivo
1.4 MiB
Cargado
17 de junio de 2019 19:03
Objeto digital (Ejemplar original), área de permisos
Objeto digital (Referencia), área de permisos
Objeto digital (Miniatura), área de permisos