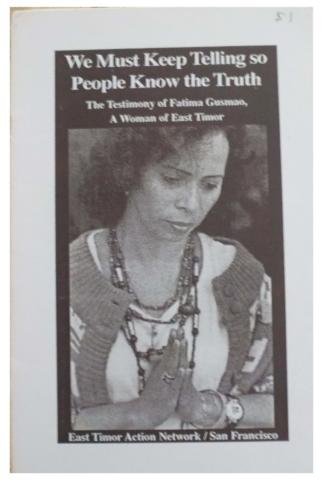 Area Identitas
Kode referensi
BU TLISE-PUBS-8
Judul
The story of Fatima Gusmao
Ukuran dan Media
Textual Record. Thirteen pages.
Area Konteks
Sumber akuisisi atau transfer langsung
Area Isi dan Struktur
Cakupan dan isi
A booklet created by the East Timor Action Network / San Francisco entitled, "We Must Keep Telling so People Know the Truth - The testimony of Fatima Gusmao, A woman of East Timor" which tells her story of the horrors in East Timor.
Kondisi dari area akses dan penggunaan
Penentuan Kondisi reproduksi
Catatan Bahasan dan Naskah
Karakter fisik dan persyaratan teknis
Area Materi Arsip Sekutu
Keberadaan dan lokasi dari original
Keberadaan dan lokasi dari salinan
Berkas Arsip yang berkaitan
Deskripsi Area Kontrol
Tanggal penciptaan revisi pemusnahan
Bagian hak Objek Digital (Master)
Bagian hak Objek Digital (Reference)
Bagian hak Objek Digital (Thumbnail)