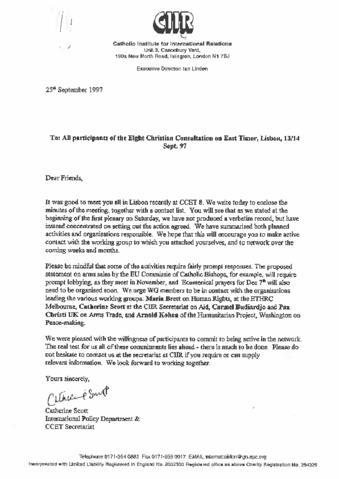 Área de identidad
Código de referencia
BU USTHP-KHN-PUBS-10-19970925
Título
Summary Minutes CIIR on East Timor
Área de contexto
Nombre del productor
(1975-2000)
Historia administrativa
The Humanitarian Project was founded by Arnold Kohen, with support from figures such as Anderson, Bishop Paul Moore Jr of New York, and others.
Origen del ingreso o transferencia
Área de contenido y estructura
Alcance y contenido
To: All participants of the Eight Christian Consultation on East Timor, Lisbon, 13/14 Sept. 97 from Catherine Scott, International Policy Department & CCET Secretariat
Includes:
Summary Minutes from the 8th Meeting of the Christian Consultation on East Timor (CCET 8), Lisbon, 13-14 September 1997
Attendance, Apologies, Overview
Human Rights Working Group (HR WG)
Official Development Assistance Working Group (ODA WG)
Arms Trade Working Group (AT WG)
Peace-Making Working Group (PM WG)
Institutional Strengthening Working Group (IS WG)
Follow - up
Contact List 6 pp.
Some alternative thoughts for development assistance in East Timor (FY 1997/98)
Área de condiciones de acceso y uso
Notas sobre las lenguas y escrituras
Características físicas y requisitos técnicos
Instrumentos de descripción
Generated finding aid
Área de materiales relacionados
Existencia y localización de originales
Originals found at Bishop's University.
Existencia y localización de copias
Unidades de descripción relacionadas
Área de notas
Identificador/es alternativo(os)
Puntos de acceso
Puntos de acceso por materia
Puntos de acceso por lugar
Puntos de acceso por autoridad
Área de control de la descripción
Fechas de creación revisión eliminación
Objeto digital (Ejemplar original), área de permisos
Objeto digital (Referencia), área de permisos
Objeto digital (Miniatura), área de permisos