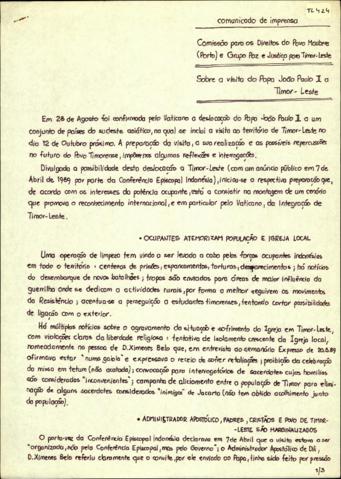 Area Identitas
Kode referensi
PTCDPM-DOCS-PTCDPMdocs19890831
Judul
Press release 1989-08-31
Tanggal
August 31, 1989 (Creation)
Area Konteks
Nama Pencipta
(1975-c. 2000)
Sejarah Administratif
The CDPM was the leading secular solidarity group in Portugal and a leading node for solidarity activism globally. Its collections are digitized through the Amilcar Cabral Centre, catalogue developed by J-P Catry. English summaries of documents available up to (date).
Sumber akuisisi atau transfer langsung
Area Isi dan Struktur
Cakupan dan isi
Official title: Comunicado de Imprensa – Sobre a visita do Papa João Paulo II a Timor Leste
Contents: Press release reporting the upcoming visit of Pope João Paulo II to some Asiatic countries, including East Timor, and Indonesia's preparation to receive him.
Main topics: An Indonesian cleaning operation in East Timor; the persecution of the East Timor Catholic Church; the denial of help for humanitarian aid institutions; the silence of the Vaticano regarding the situation; the risks of political involvement during this visit (Indonesia tries to take advantage of it so the Pope would support the annexation).
Kondisi dari area akses dan penggunaan
Penentuan Kondisi reproduksi
Catatan Bahasan dan Naskah
Karakter fisik dan persyaratan teknis
Area Materi Arsip Sekutu
Keberadaan dan lokasi dari original
Keberadaan dan lokasi dari salinan
Berkas Arsip yang berkaitan
Deskripsi Area Kontrol
Tanggal penciptaan revisi pemusnahan
Metadata Objek Digital
Terupload
22 April 2019 13:35
Bagian hak Objek Digital (External URI)
Bagian hak Objek Digital (Reference)
Bagian hak Objek Digital (Thumbnail)