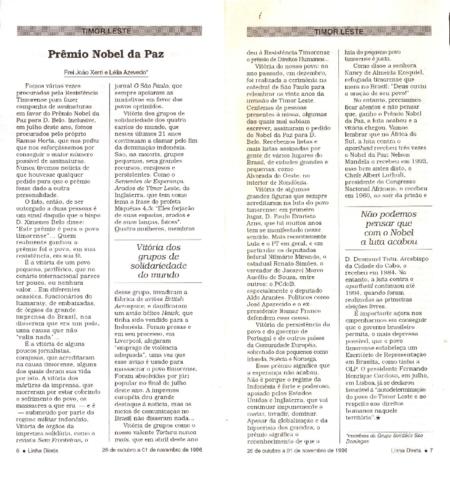 Identity area
Reference code
BU BRCPT-DOCS-9
Context area
Name of creator
(1993-1999)
Administrative history
Clamor por Timor was a solidarity group formed in Brazil in 1992, which remained active until 2002.
It was founded by a civil society group called "Grupo Solidário São Domingos" (GSSD), which arose in 1982 as a group to translate books related to religion and ended up being an important voice on the combat of inequality in Brazil and worldwide. The group main leaders were a Maltese priest called Frei João Xerri and a nun called Lilia do Amaral Azevedo.
Their interest in East Timor emerged after the suggestion of a journalist called Jan Rocha, and it was based on the same course of action of another initiative made by the GSSD called "Clamor", which aimed to help political prisoners of the dictatorships in Latin America. In 1993, after being warned by Jan Rocha of a Timorese young man trying to give more visibility to the excesses perpetrated by Indonesia on their nation's territory, GSSD started the movement Clamor Por Timor.
After this, the GSSD started to disseminate the Timorese cause throughout Brazil using various means such as: newspaper articles; benefit concerts; expositions; public acts; campaigns using mass media actors; and public pressure on the Brazilian government, which was adopting a soft attitude on the matter. They also promoted a book about the matter called "Timor Leste - Este País Quer Ser Livre" (East Timor - This Country wants to be free), with the presence of Timor's ambassador and winner of the Nobel Peace Prize, José Ramos-Horta.
 
Immediate source of acquisition or transfer
Content and structure area
Scope and content
This PDF document contains textual sources and images pertaining to topics on the Indonesian ambassador, the Nobel Peace Prize, Ramos-Horta, Bishop Belo, and Xanana Gusmão. The Brazilian effort to aid East Timor was brought up in various articles and papers, with reference to the Brazilian Worker's Party and the Catholic Church of Brazil.
"Prêmio Nobel da Paz", October 26 – November 1, 1996
Written by: Frei João Xerri and Lélia Azevedo
The writers were asked by the Resistance and by Ramos-Horta to gather signatures to support D. Belo in winning the Nobel Prize. Support from Brazilian citizens, as well as large public figures such as Lula and those in the Brazilian Worker's Political Party (PT) and European countries is shown. The article continues their discussion on the Nobel Peace Prize by stating that the prize represents the effort in resisting and the faith in a better future that all Timorese personify. The prize is also for all those who helped support and further the cause. The article mentions the importance of establishing a Foreign Representative Office in Brasilia, Brazil. An act of resistance by four women who are part of the Sementes de Esperança, Arados de Timor Leste resistance group from England is retold, where the women invaded an airplane industry called British Aerospace and damaged a military aircraft that had been sold to Indonesia.
"Escândalo na RFFSA"
In October, position of trust transportation (train) workers had a salary increase of 50 percent while the rest of the employees' salaries were raised only 10 percent. This news article questions the legitimacy of the 50 percent salary increase of the employees of trust, as the Rede Ferroviária Federal (RFFSA) has been in financial deficit, overseeing severance packages that aim to discharge 20 thousand employees.
"Fundação"
The Perseus Abraham Foundation was presented on October 19th to promote events and activities for the benefit of the Brazilian Worker's Political Party (PT).
"Reforço"
PT coordinated a group that would organize militancy in order to promote the campaigns of Luiza Erundina in Sao Paulo and Telma de Souza in Santos.
'Um PT que não se conforma"
This article criticizes those who do not vote or who cast a protest vote. | 2 pages

Sábado, 30 de novembro de 1996 Opinião
João Xerri's idea of having the Indonesian ambassador extend an invite to the Brazilian delegation to visit East Timor is supported by the Teotônio Vilela Commission for Human Rights.

"Restabelecendo a Verdade", November 28, 1996, Folha São Paulo
Written by: João Xerri
This Brazilian article gives attention to the publicized article from the Indonesian ambassador, Adian Silalahi, which has stated that the integration of East Timor into Indonesia has provided the Timorese population with great benefits. However, this Brazilian article denies these claims, asserting that the relationship between East Timor and Indonesia is quite the opposite by criticizing, questioning, and stating facts that highlight the actual situation in East Timor.

"Por que culpa a Indonesia?" November 25, 1996, Folha São Paulo
Written by: Adian Silalahi
In this article, Adian Silalahi, the Indonesian ambassador, denies the allegations made towards Indonesia by stating that the accusers and accusations have not understood the complexity and history of Indonesia's politics and its relationship with East Timor. The article points out the benefits East Timor has managed to gain through Indonesia's rule, such as a growing economy, better infrastructure, developed agriculture methods, an increase in churches, schools and hospitals. Adian Silalahi ends the article by requesting that exiled Timorese halt their campaigns against Indonesia as it only interferes with the development and peace promoted by Indonesia for East Timor.

Júpiter não dorme, Folha de São Paulo, November 9th, 1996
Written by: Pedro Ribeiro de Menezes
This article revolves around the 1996 Nobel Prize, which allowed the situation in East Timor to receive international recognition.

Situação de Timor Leste no Início de 1997
By: Clamor por Timor
In the last years, the situation in East Timor has received an increased amount of international attention as a result of the Nobel Prize being given to Bishop Belo and Professor Ramos-Horta. This paper discusses the articles written by Matthew Jardine, who writes about his trip to East Timor. Jardine discusses his article from 1997 where he interviewed David Alex, a leader of FALINTIL. During the interview, Alex declared that the Timorese resistance would continue to push for Timorese freedom, as well as force countries who support Indonesia through weapons and funding to abide by the international law and respect the right to self-determination of the Timorese population.
A second article of his published in the Washington Post on 1997 has Jardine comparing his experience visiting East Timor in 1992 with his visit in 1995. He discloses that in his second visit, he found that the Timorese population were less afraid and less submissive than in his first visit five years before. He makes it known that their different disposition could be attributed to increased information and communication. Despite the differences seen in the span of five years, he recognizes that the population of East Timor are still far from free.
Increased international recognition has forced Indonesia to become more discreet when handling rebels and activists. Indonesia keeps order through the military force and an administrative body, while a clandestine resistance with connections to the FALINTIL and to exterior diplomatic resistance hold up the fight in East Timor.
An incident involving the attack of armed individuals by Timorese young adults was retold. The incident took place on December 24, 1996, during a reunion that welcomed back Bishop Belo into Dili. Later he states that every week he receives information by AEPPOLTI on deaths and imprisonments that have occurred in East Timor. | 3 pages

Timor Leste Ganha o Prêmio Nobel da Paz
By: Clamor por Timor
This paper is a replica of the article titled "Prêmio Nobel da Paz" that was written by Frei João Xerri and Lélia Azevedo. | 2 pages

"Nobel da Paz, Prêmio Profético"
This article recounts the giving of the Nobel Prize to the selected Timorese individuals, and how it is the first time a Bishop and someone who speaks Portuguese has won the prize. On his most recent visit, Ramos-Horta said that Brazil would only become a First World country once they stand in solidarity with East Timor and African countries. | 2 pages

Provincia Frei Bartolomeu de Las Casas
Date: February 15, 2000
Frei João Xerri will travel to East Timor as a representative of the Conferência dos Religiosos do Brasil (Conference of the Religious of Brazil). Priest José Emanne Pinheiro, who is a representative of the Conferência Nacional dos Bispos do Brasil (National Conference for the Bishops of Brazil) will also be going to visit a church

Nota da Presidência da CNBB e da Comissão Episcopal de Pastoral Sobre o Timor Leste
Date: September 22, 1999
The Catholic Bishops of Brazil recognize the situation in East Timor and urge the Brazilian government, the UN, the European Union, and other members of the international community to pressure the Indonesian government to stop their violent actions towards the Timorese population. They also urge that all military aid and selling of arms to Indonesia be ceased. The Brazilian Catholic Church asks that the Brazilian government and citizens support development in East Timor through financial aid, supporting initiatives, or through work. They also suggest that all religious bodies in Brazil dedicate October 10, 1999 as a day to pray and collect donations for East Timor.

"Solta os Prisioneiros and Timor"
Collection of poems. First poem is about releasing prisoners. The second poem is about the fight against the oppression in East Timor.

Timor Leste tem Direito a Liberdade
Poster with the title: "East Timor has the right to liberty."

"Exmo. Sr. Presidente da República"
To: President Fernando Henrique Cardoso
The document urges the Brazilian government to pressure Indonesia to remove their troops from East Timor and to also release Xanana Gusmão and all other political prisoners. Additionally, the author urges the Brazilian government to help make a referendum possible in East Timor, and to also recognize the Conselho Nacional de Resistência Timorense as a representative of East Timor.

"Timor Leste: Este País Quer Ser Livre"
This document highlights the situation occurring in East Timor, and describes the efforts Clamor por Timor has made.

Clamor por Timor
"Brasil, tão perto e tão longe de Timor"
This news article discusses the colonial history of East Timor, the genocide currently occurring, and how ignorance and neglect from the international community is deplorable.
"Na Rota das Caravelas"
This segment from the newspaper states how the Timorese people are similar to Brazilians, be it from their language and culture. The segment later states how East Timor needs international aid in order to become liberated.
"Você Pode Ajudar a Luta do Povo de Timor"
This article discusses the ways in which one could help the East Timor cause, such as by: writing to the Brazilian president; boycotting products fabricated in Indonesia; sending telegrams and letters to Xanana Gusmão; purchasing a shirt, where the proceeds will go to helping the cause; spreading the word about the situation in East Timor with family and friends. Facts, dates, and numbers about various topics revolving around the situation in East Timor, such as the number of Timorese murdered and the sentence of Xanana Gusmão is also included in this article. | 4 pages.
Conditions of access and use area
Conditions governing access
Conditions governing reproduction
Language and script notes
All of the documents are written in Portuguese but described in English.
Physical characteristics and technical requirements
Allied materials area
Existence and location of originals
Existence and location of copies
Related units of description
Notes area
Alternative identifier(s)
Description control area
Dates of creation revision deletion
Document (Master) rights area
Document (Reference) rights area
Document (Thumbnail) rights area