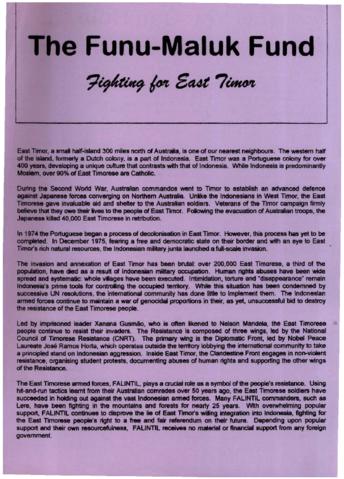 Identity area
Reference code
BU BRCPT-DOCS-1
Context area
Name of creator
(1993-1999)
Administrative history
Clamor por Timor was a solidarity group formed in Brazil in 1992, which remained active until 2002.
It was founded by a civil society group called "Grupo Solidário São Domingos" (GSSD), which arose in 1982 as a group to translate books related to religion and ended up being an important voice on the combat of inequality in Brazil and worldwide. The group main leaders were a Maltese priest called Frei João Xerri and a nun called Lilia do Amaral Azevedo.
Their interest in East Timor emerged after the suggestion of a journalist called Jan Rocha, and it was based on the same course of action of another initiative made by the GSSD called "Clamor", which aimed to help political prisoners of the dictatorships in Latin America. In 1993, after being warned by Jan Rocha of a Timorese young man trying to give more visibility to the excesses perpetrated by Indonesia on their nation's territory, GSSD started the movement Clamor Por Timor.
After this, the GSSD started to disseminate the Timorese cause throughout Brazil using various means such as: newspaper articles; benefit concerts; expositions; public acts; campaigns using mass media actors; and public pressure on the Brazilian government, which was adopting a soft attitude on the matter. They also promoted a book about the matter called "Timor Leste - Este País Quer Ser Livre" (East Timor - This Country wants to be free), with the presence of Timor's ambassador and winner of the Nobel Peace Prize, José Ramos-Horta.
 
Immediate source of acquisition or transfer
Content and structure area
Scope and content
This PDF document contains sources pertaining mostly to topics such as the U.S. helping Indonesian military forces, the situation Xanana Gusmão is in, and Australia pushing for the international recognition of East Timor.
The Funu-Maluk Fund
This flyer advertises the Funu-Maluk Fund, established in 1997 by Australians. The fund supports the East Timorese resistance against tyranny. Money is sent to FALINTIL and leaders Lere and Aluk. The flyer mentions the invaluable aid East Timorese gave to Australia during WWII by providing shelter and aid to the Australian soldiers. The Indonesian invasion of East Timor and its aftermath, as well as the annexation of the East Timorese population and human rights violations is told. The lack of action the international community has undertaken is noted. The flyer analyzes the Resistance, which is separated by three wings led by the National Council of Timorese Resistance (CNRT): the first wing is the Diplomatic Front led by Laureate Jose Ramos Horta; the second is the Clandestine Front which is non-violent; the third is the FALINTIL, who use tactics from the Australian solders from WWII. | 2 pages.

Timorese Democratic Union Media Release
Subject: Timor
Date: Friday, 21 August 1998
From: Claudia Giudice
The Australian Foreign Affairs Minister, Alexander Downer, calls for Indonesia to release Xanana Gusmão from jail in order for him to participate in talks on the future of East Timor. João Carrascalão, the World President of the Timorese Democratic Union, expresses his hopes that Australia will fully support East Timor in their fight towards independence and self-determination. Manual Carrascalão, who is in Dili, has offering himself as a hostage to Indonesia so that Xanana Gusmão can be released to join the discussion. | 2 pages.

East Timor Action Network
From: Charles Scheiner
Letter addresses Suharto's resignation, and the impact this resignation has had on East Timor's discussion for self-determination. The letter also states how the U.S. government allowed for the invasion of East Timor to take place, with them facilitating the invasion by training Indonesian soldiers and providing them with weapons. ETAN states that through years of working to curtail U.S. support for the Indonesian occupation, they have succeeded in stopping almost all of these acts. Now though, ETAN wants to push Washington to actively support East Timorese human and political rights rather than only halting support for Indonesia. In order to achieve this, they ask for donations from supporters. | 2 pages.

A photograph that says: "Timor – Esse pais quer ser livre." Translation: "Timor-this country wants to be free." Mural in the cemetery of Araça - Avenue Dr. Arnaldo - São Paulo – 1997.

Missa de Envio
From: Eliene Nobre Damacena and Francisca Saraiva Neto
To: East Timor
This is a religious missive (does not mention the East Timor cause). |10 pages.

Herald International Tribune
"A Lesson From Timor: Don't Coddle the Indonesian Military" July 6th, 2000
This newspaper points out the abuses and murders that have been committed by the Indonesian military and militia. Despite these abuses and violations, the U.S. has begun training the Indonesian military as well as providing them with weapons. They do this in hope of reforming the Indonesian military for the better. However, there is an opinion circulating that the issue with the military lies not within its training, but in the military's power over civil society.

"Old Fears Battle New Optimism in East Timor"
By Seth Mydans , July 21, 1998, The New York Times
This article talks about the hope that has transpired from the discussions for peace held in Jakarta. Xanana Gusmão and Bishop Belo would be in attendance among others. The article discusses the tension spreading throughout East Timor as its future continues to be up for debate: autonomy or integration with Indonesia. | 2 pages

"Indonesia Cuts Timor Force but Islanders Are Skeptical"
July 29, 1998, The New York Times
The removal of some combat troops from East Timor is made known, with them being removed either as an attempt at demonstrating Jakarta's commitment to a peaceful resolution to the future of East Timor, because there are less rebels to fight in the region, or because of the discussions between Indonesia and Portugal that were planned to take place in New York. Despite the removal of these combat troops, a large portion of troops still remain in East Timor. As a result, resistance leaders and activists continue to push for demilitarization as there cannot be peace if there are soldiers. Furthermore, Habibie has offered East Timor a certain degree of autonomy in return for international recognition that East Timor is part of Indonesia, however the U.N. still recognizes that Lisbon is the administrative authority of the territory. | 2 pages.

Indonesia Agrees to Autonomy Plan for East Timor
By Barbara Crossette, August 6, 1998, The New York Times
It has been announced that Indonesia and Portugal have reached an agreement on a broad autonomy plan for East Timor, which would allow the territory the right to local self-government and power over educational and cultural affairs. Indonesia would still remain in control of foreign and military affairs, as well as monetary and fiscal policies. Additionally, Portugal and Indonesia have started to pave the way for the beginning of full diplomatic relations once more. The fate of Xanana Gusmão is also discussed in the article, in which his release from jail in Jakarta is said to be part of the solution to the issue of East Timor. | 2 pages.
Conditions of access and use area
Conditions governing access
Conditions governing reproduction
Language and script notes
10 pages are in Portuguese and the rest are in English.
Physical characteristics and technical requirements
Allied materials area
Existence and location of originals
Existence and location of copies
Related units of description
Notes area
Alternative identifier(s)
Description control area
Dates of creation revision deletion
Document metadata
Uploaded
December 14, 2020 1:48 PM
Document (Master) rights area
Document (Reference) rights area
Document (Thumbnail) rights area