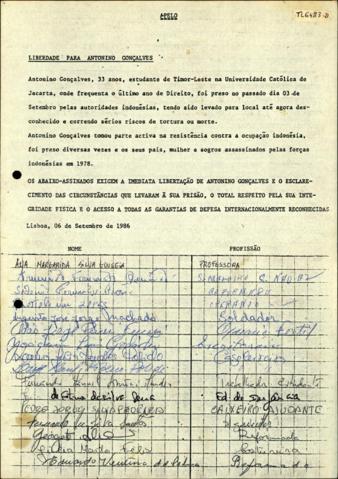 Area Identitas
Kode referensi
PTCDPM-DOCS-19860906
Judul
Other Unidentified 1986-09-06
Tanggal
September 6, 1986 (Creation)
Area Konteks
Nama Pencipta
(1975-c. 2000)
Sejarah Administratif
The CDPM was the leading secular solidarity group in Portugal and a leading node for solidarity activism globally. Its collections are digitized through the Amilcar Cabral Centre, catalogue developed by J-P Catry. English summaries of documents available up to (date).
Sumber akuisisi atau transfer langsung
Area Isi dan Struktur
Cakupan dan isi
Official title: Apelo - Liberdade para Antonio Goncalves
Contents: Collection of Portuguese signatures asking for justice in the case of Antonio Goncalves, who was arbitrarily arrested and subjected to several types of aggression.
Kondisi dari area akses dan penggunaan
Penentuan Kondisi reproduksi
Catatan Bahasan dan Naskah
Karakter fisik dan persyaratan teknis
Area Materi Arsip Sekutu
Keberadaan dan lokasi dari original
Keberadaan dan lokasi dari salinan
Berkas Arsip yang berkaitan
Deskripsi Area Kontrol
Tanggal penciptaan revisi pemusnahan
Bagian hak Objek Digital (External URI)
Bagian hak Objek Digital (Reference)
Bagian hak Objek Digital (Thumbnail)