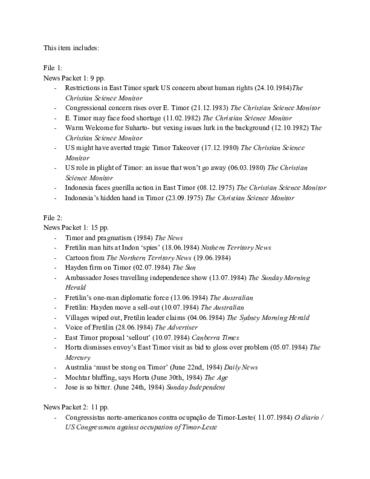 Area Identitas
Kode referensi
BU USTHP-KHN-NEWS-9-1
Area Konteks
Nama Pencipta
(1975-2000)
Sejarah Administratif
The Humanitarian Project was founded by Arnold Kohen, with support from figures such as Anderson, Bishop Paul Moore Jr of New York, and others.
Sumber akuisisi atau transfer langsung
Area Isi dan Struktur
Cakupan dan isi
Various news packets with newspaper articles about Indonesia and East Timor.
Description list on the first page of the item.
Kondisi dari area akses dan penggunaan
Penentuan Kondisi reproduksi
Catatan Bahasan dan Naskah
One packet is only articles (10) in Portuguese. One page in Spanish.
Karakter fisik dan persyaratan teknis
Sarana temu balik yang dibuat
Area Materi Arsip Sekutu
Keberadaan dan lokasi dari original
Originals found at Bishop's University.
Keberadaan dan lokasi dari salinan
Berkas Arsip yang berkaitan
Deskripsi Area Kontrol
Tanggal penciptaan revisi pemusnahan
Bagian hak Objek Digital (Master)
Bagian hak Objek Digital (Reference)
Bagian hak Objek Digital (Thumbnail)