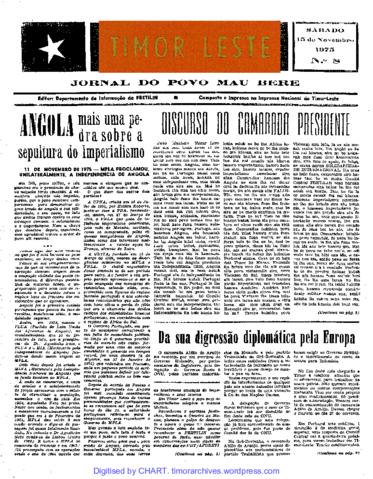 Area Identitas
Kode referensi
AU CHART SCNL-TLF-TLFRETnews19751115
Judul
Journal "Timor Leste" 1975-11-15
Tanggal
November 15, 1975 (Creation)
Ukuran dan Media
Printed newsletter; 6 pp.
Area Konteks
Sumber akuisisi atau transfer langsung
Area Isi dan Struktur
Cakupan dan isi
Journal "Timor Leste" no. 8, November 15, 1975; Supplement no. 3
This issue contains: A report of the Angolan independence declared by MPLA, expressing that is was another win for those who believe in the fall of imperialism; Reports of a FRETILIN official travelling throughout Europe where he received support for the Timorese cause, especially from the Dutch governmental and non-governmental organizations like X-Y and MOZIB (including financial support), English members of parliament and Swedish members of their country's UN mission; The main article speaking about Liberalism as a failed economic system, and accusing it of having an essence predominantly counterrevolutionary and being an enemy of the people.
Kondisi dari area akses dan penggunaan
Penentuan Kondisi reproduksi
Catatan Bahasan dan Naskah
Karakter fisik dan persyaratan teknis
Area Materi Arsip Sekutu
Keberadaan dan lokasi dari original
Keberadaan dan lokasi dari salinan
Berkas Arsip yang berkaitan
Deskripsi Area Kontrol
Tanggal penciptaan revisi pemusnahan
Metadata Objek Digital
Terupload
19 April 2019 12:01
Bagian hak Objek Digital (External URI)
Bagian hak Objek Digital (Reference)
Bagian hak Objek Digital (Thumbnail)