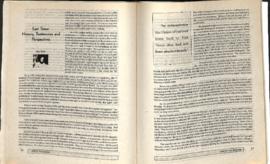 The Asia-Pacific Conference on East Timor (APCET) Report and Proceedings
This document is an excerpt from the Asia-Pacific Conference on East Timor (APCET) Report and Proceedings. The conference was held from May 31 – June 5, 1994.
This document contains:
East Timor: History, Testimonies and Perspectives
In his address, English filmmaker and journalist Max Stahl attempts to provide the perspective of a foreigner who had only recently become engaged in the struggle of East Timor. Stahl had recorded the November 12th, 1991 Dili massacre, exposing it to the world. He notes the lack of media interest in the East Timor situation for many years. He explains his disbelief when world powers supported the Indonesian government despite its repression of East Timor. He then details the preparations of the East Timorese resistance movement leading up to the eventually cancelled visit of the Portuguese delegation.
Stahl explains why Timorese resistors chose to march to the Santa Cruz cemetery and details a small altercation between demonstrators and the Indonesian military that would be used to justify a massacre. After describing this massacre, Stahl emphasises the plurality of massacres of the Timorese. He also presents an eyewitness account from a man beaten by Indonesian soldiers and brought along with other dead and wounded protestors to a mortuary. Stahl explains that many demonstrators who had survived the initial attack were killed there. Finally, he emphasises the lack of information the massacred victims' families received and the justice the people of East Timor seek.
The Report and Proceedings of APCET was published by the University of the Philippines in Dilman, Quezon City, Philippines.
Initiatives for International Dialogue