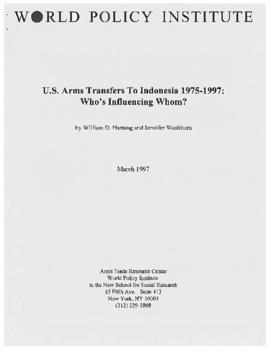 U.S. Arms Transfers to Indonesia 1975-1997: Who's influencing whom?
by William D. Hartung and Jennifer Washburn (Arms Trade Resource Center, World Policy Institute)
Includes:
Introduction: The issue of arms to Indonesia heats up
In the Beginning: Kissinger's Green Light, stepped up weapons shipments
From Carter to Clinton: A steady traffic in arms to Jakarta
How important are U.S. arms to Indonesia?
The Pending F-16 Sale
Financing Offsets: who will pick up the tab?
The role of congress, the Code of Conduct Bill, and Arms exporter Campaign spending: who's influencing whom?
The Humanitarian Project