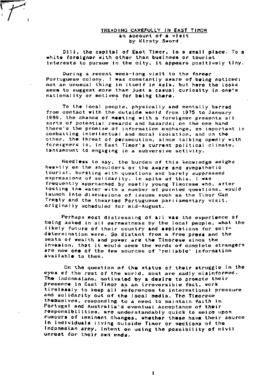 Treading carefully in East Timor
This document was sourced from Pacific Peoples' Partnership (PPP).
Titled, Treading carefully in East Timor, the document is an account of a week-long visit to East Timor by Australian Kirsty Sword. The account is 1,350 words long. Within it, Ms. Sword describes her experience talking with East Timorese and her observations of their mindset and their knowledge of the attitudes of the rest of the world towards their struggle. She also explains her discussions with priests regarding the independence movement of the Timorese. Next, she presents her experience of being surveyed by Indonesian intelligence agents. Finally, she explains that compared to another Australian traveller, she had had a much less constrained trip to East Timor.
Pacific Peoples Partnership