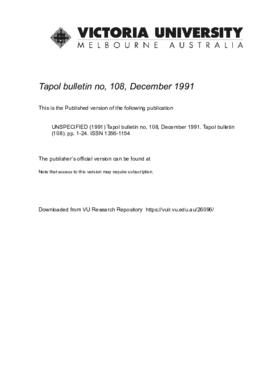 SCNL-TB-199112
Item
December 1991
Title: TAPOL Bulletin no. 108, December 1991
Contents: Bishop Belo on the massacre -- Worldwide condemnation -- Massacre among the graves by Max Stahl -- ABRI chief: "They must be wiped out" -- The death and life of Kamal Bamadhaj -- Extracts from Kamal's diary -- Suharto's inquiry commission a farce -- The Motael shooting -- A heavy blow for the resistance -- European Parliament and EC condemn -- US Congress condemns Indondesia -- "It's hard to be a Christian in Timor" -- The army casualty - who is he? -- Australian roundup -- International jurists platform -- Timorese students in Indonesia rounded up -- Photo by Stephen Cox
Description supplied by Victoria University catalogue.
TAPOL