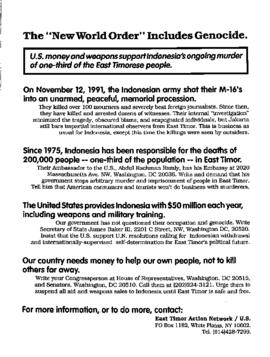 The "New World Order" Includes Genocide
This document was sourced from Pacific Peoples' Partnership (PPP). It was published by East Timor Action Network / U.S.
Titled, The "New World Order" Includes Genocide, the document discusses Indonesia's use of U.S. military and development aid to perpetrate its occupation and control of East Timor. The document argues killings in Indonesian-controlled East Timor are common and details the amount of aid the US provides to the Suharto regime. It asks supports to write to their Congresspeople to urge them to suspend all aid and weapons sales to Indonesia. Finally, it makes four suggestions as to "What you can do to stop genocide in East Timor" and provides the Dec. 6th, 1991 New York Times Op-ed page titled "Realism and Evil" by Anthony Lewis. The op-ed discusses East Timor and U.S. reactions to its fate.
Pacific Peoples Partnership