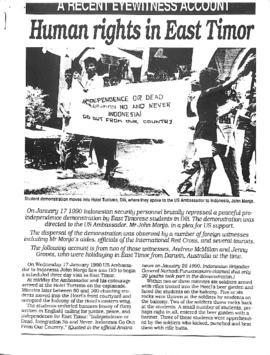 Human rights in East Timor: A recent eyewitness account
CAPPP1990
Item
February, 1990
This document was sourced from Pacific Peoples' Partnership (PPP).
Titled, Human rights in East Timor: A recent eyewitness account, the account is prefaced by an explanation of the Indonesian security personnel's dispersal of a demonstration by East Timorese students on January 17th, 1990 in Dili. The account is provided by Andrew McMillan and Jenny Groves, two Australian tourists who were on vacation in East Timor on the day of the independence demonstration. It was written in Darwin in February of 1990.
The account begins by describing the visit of the US Ambassador, John Monjo, to Indonesia and the demonstration organised by 80 to 100 students in front of Hotel Turismo. It then explains a confrontation between the students and Indonesian soldiers and a subsequent discussion between the US Ambassador and demonstrators. Next, it describes the Indonesian authorities' response to the demonstration after the Ambassador left the hotel. Among other confrontations, the account explains that one demonstrator was beaten to death and that there was evidence, seen by the US ambassador, that another had been shot and his body had been retrieved by Indonesian soldiers. Mr. McMillan and Ms. Groves then describe their discussion with two US diplomats immediately after the violent end to the demonstration. Finally, the document explains that both Andrew and Jenny sighed affidavits of what they had witnessed and Andrew testified at the UN Human Rights Commission Hearing in Geneva in February of 1990.
Pacific Peoples Partnership