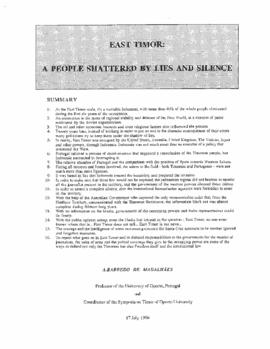 East Timor: A People Shattered by Lies and Silence
East Timor: A People Shattered by Lies and Silence
by A. Barbedo de Magalhães, Professor of the University of Oporto, Portugal and Coordinator of the Symposia on Timor of Oporto University
Contents:
At the East Timor scale, it's a veritable holocaust, with more than 40% of the whole people eliminated during the first six years of the occupation.
An annexation in the name of regional stability and defence of the Free World, in a moment of panic motivated by the Soviet expansionism
The oil and other economic interests and even religious factors also influenced the process.
Twenty years later, instead of working in order to put an end to the dramatic consequences of their errors many politicians try to keep them under the shadow of lies.
In reality, East Timor was occupied by the United States, Australia, United Kingdom, The Vatican, Japan and other powers, through Indonesia. Indonesia was not much more than executor of a policy that interested the West.
Portugal initiated a process of decolonization that supposed a consultation of the Timorese people, but Indonesia succeeded in interrupting it.
The relative abandon of Portugal and the comparison with the position of Spain towards Western Sahara.
Facing all interest and forces involved, the actors in the field - both Timorese and Portuguese - were not much more than mere figurines
It was based in lies that Indonesia created the instability and prepared the invasion.
In order to make sure that those lies would not be exposed, the Indonesian regime did not hesitate to murder all the journalist present in the territory, and the government of the western powers silenced those crimes.
In order to assure a complete silence, also the international humanitarian agencies were forbidden to enter in the territory.
With the help of the Australian Government who captured the only retransmission radio that, from the Northern Territory, communicated with the Timorese Resistance, the information black out was almost complete during thirteen long years.
With no information on the Media, governments of the occupying powers and theirs representatives could lie freely.
With the public opinion asleep, even the Media lost interest in the question: East Timor, no one even knows where that is... East Timor does not sell... East Timor is not news...
The courage and the intelligence of some newsmen prevented the Santa Cruz massacre to be another ignored and forgotten massacre.
To report what goes on in East Timor and to demand responsibilities to the governments for the murder of journalists, the sales of arms and the political coverage they give to the occupying power are some of the ways to defend not only the Timorese but also Freedom itself and the international law.
The Humanitarian Project