Showing 3 results
Archival description
Initiatives for International Dialogue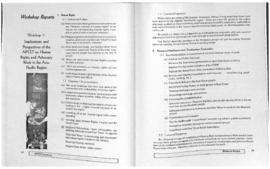 The Asia-Pacific Conference on East Timor (APCET) Report and Proceedings
PHIID-DOCS-1994
Item
1994
This document is an excerpt from the Asia-Pacific Conference on East Timor (APCET) Report and Proceedings. The conference was held from May 31 – June 5, 1994.
This document contains:
Workshop 1 report: Implications and Perspectives of the APCET on Human Rights and Advocacy Work in the Asia-Pacific Region
This report contains seven (7) section headings each with a minimum of 2 sub-section headings.
The headings are:
• Human rights
• Resource Mobilisation and Development Cooperation
• Church Solidarity
• Women
• Indigenous peoples
• People's Diplomacy, Education and Information Campaigns
• Legal aspects in East Timor
Each section contains sub-sections that outline the details of the issue at stake and provide recommendations, based on workshop proceedings, of the APCET on these subjects.
Workshop 2 report: Building Solidarity Links with East Timor
This report delineates the composition of the workshop (Organisations and countries of origin), the five (5) areas of concern it addressed and how these categories were distributed among three separate workshop groups. It then describes the results and suggestions of the three workshop groups (A,B and C) aiming to identify and address the areas of concern
The Report and Proceedings of APCET was published by the University of the Philippines in Dilman, Quezon City, Philippines.
Initiatives for International Dialogue