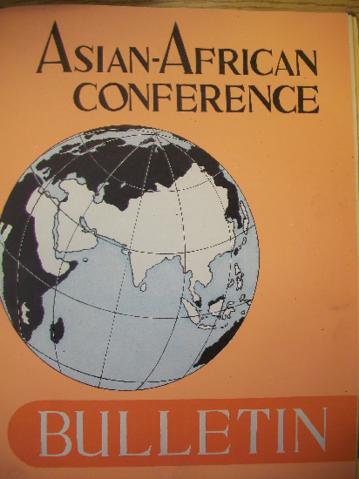 Area Identitas
Kode referensi
BU IDMFA-NEWS-195504
Judul
African Asia Conference Bulletin 1955-04
Ukuran dan Media
Printed newsletter; 17 pp.
Area Konteks
Nama Pencipta
(1945-present)
Sejarah Administratif
Indonesia's foreign ministry, founded on independence in 1945. Produced Bandung conference Bulletin in 1955 (not about Timor, but foundational in decolonization). Indonesia occupied East Timor from 1975 to 1999 and the ministry produced r distributed pro-occupation materials for some years.
Sumber akuisisi atau transfer langsung
Area Isi dan Struktur
Cakupan dan isi
Heading: No. 8, April 1955
Communique (April 23, 1955)
Speeches at signing of treaty between China and Indonesia
Who's who in the conference
World Opinion
Press extracts
Kondisi dari area akses dan penggunaan
Penentuan Kondisi reproduksi
Catatan Bahasan dan Naskah
Karakter fisik dan persyaratan teknis
Area Materi Arsip Sekutu
Keberadaan dan lokasi dari original
Originals at Bishop's (private collection) and McMaster University Archives
Keberadaan dan lokasi dari salinan
Berkas Arsip yang berkaitan
Deskripsi Area Kontrol
Tanggal penciptaan revisi pemusnahan
Bagian hak Objek Digital (Master)
Bagian hak Objek Digital (Reference)
Bagian hak Objek Digital (Thumbnail)