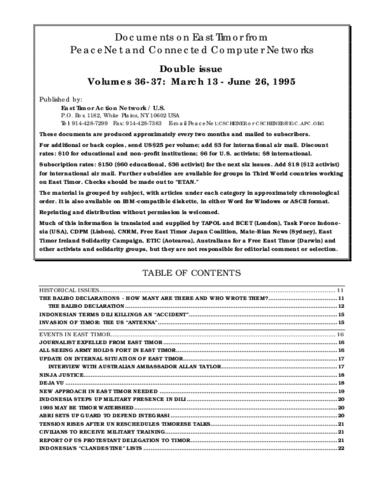 Zone d'identification
Titre
Documents on East Timor from PeaceNet and connected computer networks 36-37: March 13 - June 26, 1995
Étendue matérielle et support
Printed document, 234 pp.
Zone du contexte
Nom du producteur
(1991-present)
Histoire administrative
ETAN-US was formed in 1991 after the Santa Cruz massacre, and became the major US solidarity coalition. It published Network News, later renamed as Estafeta (Tetun for "messenger" or "courier"). Based in the New York area, it had chapters throughout the United States and for a time, a lobbying office in Washington. Key figures include Charles Scheiner, Lynn Frederickson, and John Miller.
ETAN/US self-description at http://www.etan.org/etan/default.htm
Source immédiate d'acquisition ou de transfert
Zone du contenu et de la structure
Portée et contenu
HISTORICAL ISSUES.................................................................................................................................. 11
THE BALIBO DECLARATIONS - HOW MANY ARE THERE AND WHO WROTE THEM? ......................................11
THE BALIBO DECLARATION.....................................................................................................................12
INDONESIAN TERMS DILI KILLINGS AN "ACCIDENT"..................................................................................15
INVASION OF TIMOR: THE US "ANTENNA"...................................................................................................15
EVENTS IN EAST TIMOR............................................................................................................................ 16
JOURNALIST EXPELLED FROM EAST TIMOR ................................................................................................16
ALL SEEING ARMY HOLDS FORT IN EAST TIMOR.........................................................................................16
UPDATE ON INTERNAL SITUATION OF EAST TIMOR.....................................................................................17
INTERVIEW WITH AUSTRALIAN AMBASSADOR ALLAN TAYLOR................................................................17
NINJA JUSTICE............................................................................................................................................18
DEJA VU ......................................................................................................................................................18
NEW APPROACH IN EAST TIMOR NEEDED ..................................................................................................19
INDONESIA STEPS UP MILITARY PRESENCE IN DILI ...................................................................................20
1995 MAY BE TIMOR WATERSHED................................................................................................................20
ABRI SETS UP GUARD TO DEFEND INTEGRASI ............................................................................................20
TENSION RISES AFTER UN RESCHEDULES TIMORESE TALKS......................................................................21
CIVILIANS TO RECEIVE MILITARY TRAINING...............................................................................................21
REPORT OF US PROTESTANT DELEGATION TO TIMOR.................................................................................21
INDONESIA'S "CLANDESTINE" LISTS ...........................................................................................................22
Documents on East Timor from
PeaceNet and Connected Computer Networks
Double issue
Volumes 36-37: March 13 - June 26, 1995
Published by:
East Timor Action Network / U.S.
P.O. Box 1182, White Plains, NY 10602 USA
Tel: 914-428-7299 Fax: 914-428-7383 E-mail PeaceNet:CSCHEINER or CSCHEINER@IGC.APC.ORG
These documents are produced approximately every two months and mailed to subscribers.
For additional or back copies, send US$25 per volume; add $3 for international air mail. Discount
rates: $10 for educational and non-profit institutions; $6 for U.S. activists; $8 international.
Subscription rates: $150 ($60 educational, $36 activist) for the next six issues. Add $18 ($12 activist)
for international air mail. Further subsidies are available for groups in Third World countries working
on East Timor. Checks should be made out to "ETAN."
The material is grouped by subject, with articles under each category in approximately chronological
order. It is also available on IBM-compatible diskette, in either Word for Windows or ASCII format.
Reprinting and distribution without permission is welcomed.
Much of this information is translated and supplied by TAPOL and BCET (London), Task Force Indonesia (USA), CDPM (Lisbon), CNRM, Free East Timor Japan Coalition, Mate-Bian News (Sydney), East
Timor Ireland Solidarity Campaign, ETIC (Aotearoa), Australians for a Free East Timor (Darwin) and
other activists and solidarity groups, but they are not responsible for editorial comment or selection.
Page 2 East Timor Documents, Volumes 36-37. March 13 - June 26, 1995.
TWO EAST TIMOR REBELS KILLED IN SHOOT-OUT......................................................................................22
EARTHQUAKE IN EAST TIMOR ....................................................................................................................22
NURSE FEARED FOR LIFE IN EAST TIMOR ...................................................................................................23
EYEWITNESS REPORT ON OCCUPIED EAST TIMOR.................................................................................23
SOLDIER KILLED IN VIQUEQUE...................................................................................................................24
GUERRILLA CAPTURED ................................................................................................................................24
KILLED IN JAIL UNDER TORTURE - RUMOR FALSE......................................................................................24
FILOMENO DOS SANTOS IS NOT DEAD ..................................................................................................24
INDONESIA REPLACES EAST TIMOR MILITARY COMMANDER .....................................................................25
COL. M. SIMBOLON PLEDGES TO RESPECT HUMAN RIGHTS ..................................................................25
SOCIAL PROBLEMS DOMINATE EAST TIMOR ...............................................................................................26
EAST TIMOR'S REQUEST FOR RIGHTS BRANCH HAILED ..............................................................................26
INDONESIA RIGHTS BODY TO OPEN OFFICE IN EAST TIMOR.................................................................26
PROTESTANT VOICE RAISED IN SUPPORT OF TIMOR ..................................................................................26
STATEMENT OF THE REVEREND ARLINDO MARCAL................................................................................27
POLICE WARN AGAINST PROTESTS DURING TALKS ....................................................................................28
INDONESIA PAPERS LOOK TO PAGE CUTS, PRICE RISES............................................................................28
TEACHING JOBS AT UNTIM..........................................................................................................................28
ALATAS DEFENDS HUMAN-RIGHTS RECORD IN E. TIMOR..........................................................................29
ALATAS SEEKS EAST TIMORESE YOUTH'S SUPPORT IN DILI ........................................................................30
ALI ALATAS: WOULD RAMOS HORTA REALLY DARE TO COME TO EAST TIMOR?...........................................30
RAMOS HORTA COMMENTS ON ALI ALATAS' DILI INTERVIEW ................................................................31
TIMORESE LIVE IN POVERTY .......................................................................................................................31
INDONESIAN MILITARY ATTACK DILI RELIGIOUS PROCESSION .................................................................32
IMPROVE TIMOR SCENE: ALATAS ................................................................................................................32
RECENT ARRESTS AND OTHER INCIDENTS IN EAST TIMOR........................................................................33
THE "AUTONOMY" QUESTION ................................................................................................................... 33
HOME MINISTER RULES OUT SPECIAL STATUS............................................................................................33
SPECIAL STATUS FOR ET ?...........................................................................................................................33
SUHARTO 'MOVEMENT' ON TIMOR?.............................................................................................................34
EAST TIMOR - SUHARTO PROPOSES SPECIAL STATUS.................................................................................34
INDONESIA'S SUHARTO INCREASES AUTONOMY FOR SOME DISTRICTS ....................................................34
'AUTONOMY' FOR TIMOR DISTRICT ........................................................................................................34
EAST TIMOR: THE CASE FOR INTEGRATION ................................................................................................34
COMMENT FROM PAULO TEIXEIRA: ........................................................................................................36
LIQUICA KILLINGS REVERBERATE ........................................................................................................... 36
CIVIL SERVANTS IN LIQUICA FACE DISMISSAL ...........................................................................................36
MAJ. GEN. ADANG SPEAKS HIS MIND.........................................................................................................36
TRUTH OR CONSEQUENCES: COMMISSION TREADS SOFTLY ON TIMOR KILLINGS ....................................37
RUMOURED DISMISSAL OF 5 OFFICERS OVER LIQUICA..............................................................................38
MILITARY HONOUR COUNCIL VERDICT ON LIQUICA KILLINGS ..................................................................38
INDONESIAN ARMY CHIEF WARNS OF SECURITY THREATS ........................................................................39
INDONESIA COURT-MARTIALING TWO SOLDIERS.......................................................................................39
TWO OFFICERS FACE COURT MARTIALS .................................................................................................39
I KILLED TIMOR SIX: SOLDIER ....................................................................................................................39
LIEUTENANT ADMITS GIVING ORDER TO KILL DETAINEES .........................................................................39
OFFICER FACES JAIL IN TIMOR KILLINGS...................................................................................................40
SOLDIERS FACES SIX YEARS OVER LIQUICA KILLINGS..........................................................................40
SOLDIERS IN LIQUICA KILLING SEEK ACQUITTALS.....................................................................................41
East Timor Documents, Volumes 36-37. March 13 - June 26, 1995 Page 3
SOLDIER JAILED OVER LIQUICA KILLING...................................................................................................41
INDONESIAN SOLDIER JAILED FOR EAST TIMOR DEATHS.....................................................................42
XANANA GUSMÃO ACTIVE......................................................................................................................... 42
XANANA'S LETTER TO ASIA-PACIFIC CONFEREN CE ON EAST TIMOR...........................................................42
INDEPENDEN INTERVIEWS XANANA GUSMÃO ............................................................................................43
XANANA GUSMÃO AND THE PRO-DEMOCRACY MOVEMENT...................................................................45
XANANA LETTER TO AKSI ............................................................................................................................46
TO: WENDY ROBERTSON, RESISTANCE SOCIALIST YOUTH ORGANISATION, APRIL 23...........................46
XANANA ILL.................................................................................................................................................46
XANANA GETS CHECK-UP AT CAROLUS.......................................................................................................47
XANANA TO GET CHECK-UP....................................................................................................................47
REUTER ON XANANA CHECK-UP.............................................................................................................47
DETAINED INDEPENDENCE LEADER TRANSFERRED TO HOSPITAL........................................................47
XANANA GUSMÃO HEALTH UPDATE.............................................................................................................48
XANANA WRITES AKSI- EAST TIMOR DAY OF NATIONAL ACTION ................................................................48
XANANA GUSMÃO STATEMENT AT PARLIAMENTARY CONFERENCE.............................................................49
XANANA TO BE INDULTED? .........................................................................................................................54
CLEMENCY FOR XANANA NOT UNDER CONSIDERATION .......................................................................54
RESISTANCE LEADERS MEET AND SPEAK OUT ....................................................................................... 55
A PORTUGUESE CITIZEN (DOMINGOS SARMENTO ALVES INTERVIEW) .......................................................55
STUDENTS TAKE LEAD IN EAST TIMOR RESISTANCE..............................................................................57
CNRM ON DEATH PENALTY FOR FLOR CONTEMPLACION............................................................................58
TIMORESE SUMMIT MEETING......................................................................................................................58
DIPLOMATIC FRONT PREPARES FOR ACTION ..............................................................................................58
TIMORESE RESISTANCE CONFERENCE REINFORCES UNITY ..................................................................59
TIMOR'S INDEPENDENCE: XANANA AND XIMENES MUST BE INVOLVED ....................................................59
'KEEP STRUGGLING': THE SPIRIT OF THE EAST TIMORESE UNDERGROUND ..............................................60
ET STUDENT ORGANISATION CALLS FOR SOLIDARITY ................................................................................61
GENEROUS LIES..........................................................................................................................................61
RAMOS HORTA: ALATAS'S ALBATROSS.........................................................................................................63
ALATAS RESPONDS: TALL TALES .............................................................................................................64
BISHOP BELO IN EUROPE ......................................................................................................................... 64
BISHOP BELO TO VISIT PORTUGAL..............................................................................................................64
BELO: INDONESIANS ARE WORSE THAN COMMUNISTS AND ATHEISTS......................................................64
THE SHY BISHOP WITH MANY HEADACHES............................................................................................66
SOARES BACKS EAST TIMOR BISHOP .........................................................................................................67
BELO TO PORTUGAL AND SALZBURG "ON VATICAN ORDERS" ....................................................................67
BELO PRAYS FOR SALZBURG TALKS ............................................................................................................67
XIMENES BELO CAUTIOUS IN MADRID.......................................................................................................68
TIMOR - IN BETWEEN THE LINES ................................................................................................................68
DURÃO'S SECRET MEETING WITH XIMENES BELO ......................................................................................68
PORTUGUESE LANGUAGE DYING OUT IN TIMOR – BISHOP.........................................................................69
BELO: NO RESOURCES TO REINTRODUCE PORTUGUESE LANGUAGE.....................................................69
BISHOP WITH CHARISMA TO UNITE SQUABBLING TIMORESE FACTIONS....................................................71
BELO SEEN AS MISREPRESENTING STRUGGLE AS A RELIGIOUS WAR ...................................................71
JOHN PAUL II ADDRESSES NEW INDONESIAN AMBASSADOR ....................................................................72
EAST TIMORESE PRISONERS AND THEIR TRIALS ................................................................................... 72
COMMISSION FOR HUMAN RIGHTS ASKS FOR REDUCED SENTENCES FOR POLITICAL PRISONERS ..........72
TRIAL OF 13 TIMORESE DEMONSTRATORS STARTED...................................................................................72
Page 4 East Timor Documents, Volumes 36-37. March 13 - June 26, 1995.
COURT TRIES DEMONSTRATOR ..............................................................................................................72
TIMORESE JAILED FOR JANUARY PROTEST.................................................................................................72
EAST TIMOR DISSIDENTS JAILED ...........................................................................................................72
INDONESIA POLICE ARREST 4 EAST TIMORESE ..........................................................................................73
17 EAST TIMORESE FACE TRIAL ON NINJA ISSUE........................................................................................73
JOSÉ ANTONIO BELO JAILED ......................................................................................................................73
INDONESIAN 'LEGAL' PROCESS (J.A. BELO TRIAL)..................................................................................73
30 EAST TIMORESE YOUTHS ARRESTED. .....................................................................................................74
LETTER FROM TIMORESE PRISONERS IN EAST JAVA (MALANG AND SEMARANG) .......................................74
HENRIQUE BELMIRO ON TRIAL ...................................................................................................................75
COURT SENTENCES THREE "NINJAS" TO FIVE MONTHS JAIL......................................................................75
TIMORESE REFUGEES TRY TO GET OUT .................................................................................................. 76
HONG KONG & TIMORESE REFUGEES ........................................................................................................76
THE PASSAGE TO FREEDOM ........................................................................................................................76
700 TIMORESE ASK ASYLUM IN OZ..............................................................................................................77
ABIDIN: NO LONGER CITIZENS..............................................................................................................77
EAST TIMORESE REFUSED ASYLUM ........................................................................................................78
CHINESE BUSINESSMEN LEAVE TIMOR.......................................................................................................78
EAST TIMOR 'BOAT PEOPLE' TO DARWIN.....................................................................................................79
NAMES OF YOUNG EAST TIMORESE BOAT PEOPLE SEEKING REFUGE IN AUSTRALIA.............................79
HABIBIE ANGERED BY ARRIVAL OF EAST TIMORESE REFUGEES .................................................................79
EAST TIMOR REFUGEES POSE DILEMMA FOR CANBERRA............................................................................80
RED CROSS WARNS OTHERS MAY FOLLOW EAST TIMORESE......................................................................80
PORTUGAL SAYS E. TIMORESE AT RISK IF RETURNED HOME......................................................................81
DARWIN'S FIGHT FOR REFUGEES................................................................................................................81
EAST TIMORESE BOAT PEOPLE MOVED FROM DARWIN TO ISOLATED LOCATION .......................................81
LETTER TO DARWIN'S IMMIGRATION DEPT. ................................................................................................82
LET THE EAST TIMORESE BOAT PEOPLE STAY!.............................................................................................83
TIMORESE CAN RETURN: ARMY...................................................................................................................83
A BLOOD BOND PAID IN SHAME .................................................................................................................84
EVENTS IN INDONESIA.............................................................................................................................. 84
ARAUJO: "ENOUGH OF ALL THIS SUFFERING..."..........................................................................................84
PERSISTENT THORN IN THE FLESH.............................................................................................................86
SUHARTO'S NEW CRACKDOWN ...................................................................................................................87
MORE STUDENT LEADERS ARRESTED IN INDONESIA.................................................................................88
MARSINAH CASE FRAME-UP FOILED?..........................................................................................................89
MAY DAY MARCHERS BASHED IN INDONESIA ............................................................................................89
POLITICAL TIDE IS TURNING SLOWLY.........................................................................................................89
EAST TIMOR'S YOUTH TRAPPED IN TWILIGHT WORLD ................................................................................90
AN AMERICAN SCHOLAR INTERROGATED ...................................................................................................90
BOB HEFNER ARRESTED BY JAKARTA POLICE........................................................................................90
PORTUGUESE INVITED TO YOUTH MARCH ..................................................................................................91
INDONESIAN PRESS HARASSED................................................................................................................ 91
POLICE RAID AJI .........................................................................................................................................91
IFJ CONDEMNS INDONESIA 'CAMPAIGN OF INTIMIDATION'..................................................................91
JOURNALISTS' ARRESTS SIGNAL NEW PRESS CRACKDOWN IN INDONESIA..........................................92
MEDIA AGAINST MEDIA, JOURNALIST AGAINST JOURNALIST.....................................................................92
JOURNALISTS ARRESTED IN JAKARTA ........................................................................................................93
GOVERNMENT ASKS EDITORS TO FIRE AJI JOURNALISTS ..........................................................................93
East Timor Documents, Volumes 36-37. March 13 - June 26, 1995 Page 5
BULLETINS VERSUS BULLETS: THE POLITICS OF THE ALTERNATIVE MEDIA IN INDONESIA........................94
IFJ: CRACKDOWN CREATES FEAR ...............................................................................................................95
OPEN LETTER FROM IMPRISONED JOURNALISTS .......................................................................................95
JOURNALISTS WRITE FROM PRISON ......................................................................................................96
PRESS FREEDOM IN INDONESIA DETERIORATING.....................................................................................96
TEMPO WINS CASE AGAINST HARMOKO......................................................................................................97
TEMPO AND PRESS FREEDOM DAY .........................................................................................................97
TEMPO COURT ORDER............................................................................................................................98
THE HAZARDOUS BUSINESS OF JOURNALISM IN INDONESIA....................................................................98
PRAMUDYA'S BOOK ON BURU BANNED .......................................................................................................99
ONE YEAR ANNIVERSARY OF BANNING OF INDONESIAN PUBLICATIONS MARKED ....................................99
PRESS CLOSURES IN INDONESIA ONE YEAR LATER...............................................................................99
OPPRESSION IN WEST PAPUA, FLORES .................................................................................................. 101
MINING PROTESTS MET WITH MASSACRE................................................................................................. 101
MORE KILLINGS OF INDIGENOUS PEOPLE WITHIN THE FREEPORT CONCESSION AREA ......................... 102
KILLINGS AND TORTURE IN FLORES ......................................................................................................... 103
MAUMERE RELIGIOUS PROVOCATIONS................................................................................................ 104
ANTI-CATHOLIC VIOLENCE IN INDONESIA........................................................................................... 104
FLORES RIOTS ...................................................................................................................................... 104
GREENS ATTACK INACTION ON WEST PAPUA KILLINGS ........................................................................... 104
GEORGE ADITJONDRO IN EXILE ............................................................................................................ 105
BORDERING THE UNREPRESENTED: OR, WHY IS THERE A FOURTH WORLD MOVEMENT ?...................... 105
SCHOLAR SPEAKS ON INDONESIAN DEMOCRACY.................................................................................... 106
RE-THINKING THE CONCEPT OF "MELANESIA" ......................................................................................... 107
LBH: ADITJONDRO MAY FACE TRIAL ......................................................................................................... 107
OZ ACADEMICS APPEAL FOR GEORGE ADITJONDRO................................................................................ 107
DEVELOPMENT? YES? HUMAN RIGHTS? NO! ............................................................................................. 108
INDONESIA TO ASK INTERPOL FOR HELP ON ACADEMIC......................................................................... 109
GEORGE ADITJONDRO INTERVIEW........................................................................................................... 110
ACTIVIST HANDOVER REJECTED............................................................................................................... 110
OZ SAYS NO TO GJA ARREST................................................................................................................ 110
TIMOR ACTIVIST IN BI D TO STAY HERE..................................................................................................... 110
CONFLICTING PRESSURES ON ACTIVIST ADITJONDRO ............................................................................ 111
U.N. ACTIVITIES AND RESPONSES .......................................................................................................... 112
INDONESIA CONTESTS UN REPORT ON TIMOR......................................................................................... 112
EYE ON ASIA: "A UN REPORT ON EAST TIMOR; 1991 SHOOTING WAS 'A PLANNED MILITARY OPERATION'"112
ALATAS-BARROSO MEETING DELAYED ALSO (PROPOSED) ........................................................................ 113
TRIPARTITE UN TALKS ON EAST TIMOR POSTPONED ........................................................................... 113
BOUTROS-GHALI VISITS JAKARTA............................................................................................................. 113
ET LEGISLATIVE ASSEMBLY DECLARATION TO BOUTROS GHALI .......................................................... 114
SECURITY TIGHTENED FOR BBG VISIT ................................................................................................. 114
UN CHIEF BELIEVES EAST TIMOR TALKS MAKING PROGRESS................................................................... 114
UN SECRETARY OPTIMISTIC ABOUT EAST TIMOR RESOLUTION............................................................ 114
TIMORESE MEET UN SECRETARY-GENERAL .............................................................................................. 114
UN ECONOMIC, SOCIAL AND CULTURAL RIGHTS COMMITTEE DISCUSSES REPORT OF PORTUGAL.......... 115
ALL-INCLUSIVE TIMORESE DIALOGUE................................................................................................... 115
UN BRINGS TIMORESE TOGETHER; MEETING SET FOR APRIL IN SALZBURG ............................................ 115
ABILIO ARAUJO CRITICAL OF UN.............................................................................................................. 115
TIMOR: TALKS IN JEOPARDY..................................................................................................................... 116
Page 6 East Timor Documents, Volumes 36-37. March 13 - June 26, 1995.
TIMOR TALKS' PARTICIPANTS .................................................................................................................... 116
ALATAS ON INTER-TIMORESE TALKS......................................................................................................... 116
JAKARTA BACKS TIMOR TALKS DESPITE UN PUSH: ALATAS.................................................................. 116
ANTI-UN DEMONSTRATION IN DILI TOMORROW ...................................................................................... 117
MOVE TO SABOTAGE UN TALKS ............................................................................................................ 117
EAST TIMORESE RALLIED TO OPPOSE TALKS ....................................................................................... 117
ADANG WARNS AGAINST CHAOS IN APRIL ............................................................................................... 117
INDONESIA'S LATEST EAST TIMOR MANOEUVRES: SALZBURG INTRA-TIMORESE MEETING POSTPONED . 117
HORTA: INDONESIA IS NOT INTERESTED IN INTER-TIMORESE TALKS ..................................................... 118
RESISTANCE CHALLENGE TO DURÃO ........................................................................................................ 119
"SETTLEMENT FOR TIMOR - ONLY WITH XANANA AND XIMENES" (RAMOS HORTA) .................................. 119
PORTUGUESE LANGUAGE CITIES CONDEMN TALKS DELAY ...................................................................... 120
CRITICISM AND EXPLANATIONS ............................................................................................................... 120
BELO TO PARTICIPATE IN UN TALKS......................................................................................................... 121
INTERVIEW WITH MARIO CARRASCALÃO .................................................................................................. 121
FORMER EAST TIMOR GOVERNOR ON XANANA.................................................................................... 122
ALL-INCLUSIVE INTRA-EAST-TIMORESE DIALOGUE SCHEDULED FOR 2-5 JUNE IN AUSTRIA.................... 122
INDONESIAN CRITICS TO ATTEND UN'S TIMOR TALKS ............................................................................. 122
EAST TIMORESE WELCOME FRESH TALKS................................................................................................. 123
TIMOR RESISTANCE PESSIMISTIC ABOUT AUSTRIA MEETING .............................................................. 123
AN ASSESSMENT OF "ALL INCLUSIVE INTRA EAST TIMORESE DIALOGUE" ................................................ 123
THREAT TO QUIT AT EAST TIMOR TALKS.................................................................................................... 125
CALL FOR INDONESIA PULLOUT AT EAST TIMOR TALKS............................................................................ 125
FORMER TIMORESE ENEMIES MAKE PEACE.............................................................................................. 126
EAST TIMOR ACTIVISTS UPBEAT AFTER TALKS IN AUSTRIA........................................................................ 126
E TIMOR TALKS RESULT IN CONSENSUS................................................................................................... 126
INTRA-EAST TIMORESE DIALOGUE ADOPTS 'BURG SCHLAINING DECLARATION' ..................................... 127
TIMOR DIALOG ENDS, MORE TALKS AHEAD.............................................................................................. 127
LOPES DA CRUZ ON TALKS........................................................................................................................ 128
ALATAS CAUTIOUS ON NEW TIMOR DIALOG PROSPECTS.......................................................................... 128
ALATAS ON TALKS................................................................................................................................. 128
ALATAS: NO LOSER IN EAST TIMOR DIALOG......................................................................................... 128
LOPES DA CRUZ: "I WAS CHEATED BY RAMOS HORTA" ............................................................................. 129
ETRA REPORT ON AUSTRIA EAST TIMOR MEETING.................................................................................... 129
CNRM STATEMENT ON INTRA-EAST TIMORESE DIALOGUE AND 'BURG SCHLAINING' DECLARATION ....... 132
SELF CONFIDENCE VITAL OVER E TIMOR.................................................................................................. 132
EAST TIMOR NEGOTIATIONS COULD NOW BE ENTERING DECISIVE PHASE ............................................. 133
TIMOR GAP OIL AND OTHER CORPORATE INTERESTS .......................................................................... 133
MORE OIL DISCOVERIES IN TIMOR GAP ................................................................................................... 133
PETROZ: RELYING ON EAST TIMOR'S OIL.................................................................................................. 134
RTZ LINKS UP WITH FREEPORT: A MARRIAGE MADE IN HADES ................................................................ 134
CHURCH INVESTORS LOST IN RTZ'S MORASS........................................................................................... 135
CLAIMS OF BHP OFFER OF AID FOR TIMOR............................................................................................... 136
AUSTRALIA, THE TIMOR GAP AND THE WORLD COURT............................................................................. 136
CODDLING INDONESIA IN THE NAME OF BUSINESS ........................................................................... 138
TEXACO ANNUAL SHAREHOLDER MEETING REPORT ................................................................................ 139
EVENTS IN AUSTRALIA............................................................................................................................ 141
CLOSER AUSTRALIA-INDONESIA TIES BUOY IPTN BID............................................................................. 141
INDONESIANS AND AUSTRALIANS IN JOINT MILITARY EXERCISES.......................................................... 141
East Timor Documents, Volumes 36-37. March 13 - June 26, 1995 Page 7
EAST TIMOR CAMPAIGN IN AUSTRALIA PICKS UP PACE............................................................................ 141
INDONESIANS IN DARWIN........................................................................................................................ 141
AUSTRALIAN GOVERNMEN T SUPPORTS CONVICTED MURDERER ............................................................. 142
PANJAITAN VISITING AUSTRALIA.......................................................................................................... 142
PANJAITAN VISIT A DISGRACE ............................................................................................................. 143
PROTEST FOR EAST TIMOR........................................................................................................................ 143
END THE ATROCITY IN EAST TIMOR......................................................................................................... 143
AUSTRALIA PART OF JAKARTA'S TIMOR WAR EFFORT................................................................................ 144
"ORDER OF AUSTRALIA" FOR ALI ALATAS .................................................................................................. 145
AUSTRALIAN GOVERNMEN T SHAMELESSLY SUCKS UP TO ALATAS....................................................... 145
ARAUJO TO MEET WITH EVANS AT THE HAGUE ......................................................................................... 145
OZ SUBSIDY TO ICRC IN ET....................................................................................................................... 145
DARWIN ANZAC DAY INCLUDES EAST TIMORESE ..................................................................................... 145
ANZAC DAY IN DARWIN (HATUDO DALAN REMEMBERED).................................................................... 146
ADELAIDE CAMPAIGN FOR EAST TIMOR TAKES OFF.................................................................................. 146
PROTEST AGAINST HUMAN RIGHTS VIOLATIONS...................................................................................... 146
MELBOURNE RALLY FOR EAST TIMOR ...................................................................................................... 147
CONFERENCE: PEACEMAKING INITIATIVES FOR EAST TIMOR................................................................... 147
RALLIES DEMAND: FREE EAST TIMOR, END MILITARY TIES! .................................................................... 147
MANTIRI AS INDON. AMBASSADOR TO AUSTRALIA ................................................................................... 148
INDONS OPPRESSIVE: EVANS................................................................................................................... 149
PICKET HABIBIE ON AUSTRALIAN TOUR .................................................................................................... 149
TOP INDONESIAN FLIES TO PERTH ...................................................................................................... 150
OVER 120 PICKET HABI BIE ON HIS ARRIVAL IN AUSTRALIA ................................................................. 151
BUILDING A STRONGER MOVEMENT FOR EAST TIMOR ............................................................................. 151
JAIL FOR TIMOR ACTION ........................................................................................................................... 152
DARWIN CONFERENCE: INDONESIA AND REGIONAL CONFLICT RESOLUTION ........................................ 152
TIMOR ACTIVISTS APPEAL HARSH SENTENCE........................................................................................... 152
NT STUDENT UNION 'ADOPTS' EAST TIMOR PRISONERS........................................................................... 153
MELBOURNE DEMO FOR EVANS AND INDONESIAN AMBASSADOR ........................................................... 153
EAST TIMOR, ASIA-PACIFIC RALLY TO OPEN RESISTANCE CONFERENCE ................................................. 153
NEW INDONESIAN AMBASSADOR TO OZ - EVANS STATEMENTS ............................................................... 154
EVENTS IN AOTEAROA ............................................................................................................................ 154
MCKINNON TO LOOK INTO ACTION ON INDONESIA ................................................................................ 154
ETIC SUPPORTS EFFORT TO COLLECT TODD AWARD ................................................................................ 154
EVENTS IN ASIA....................................................................................................................................... 155
INDONESIA-MALAYSIA AIRCRAFT SWAP .................................................................................................... 155
EAST TIMOR RAISED AT DINNER IN BEIJING............................................................................................ 155
EVENTS IN AFRICA .................................................................................................................................. 155
CHANGING TIMES - MAPUTO'S RENEWED INTEREST IN EAST TIMOR ....................................................... 155
MANDELA'S STRANGE LINKS TO HUMAN RIGHTS ABUSER........................................................................ 156
EDITORIAL: GOING CHEAP: A FOREIGN POLICY .................................................................................. 157
SOUTH AFRICA - EAST TIMOR SOLIDARITY GROUP ................................................................................... 157
EVENTS IN BRITAIN................................................................................................................................. 158
TIMORESE STUDENT HONOURED.............................................................................................................. 158
DIRECT ACTION TO STOP HAWK FIGHTER AIRCRAFT LEAVING FOR INDONESIA...................................... 158
ACTION TO SUPPORT CHRIS COLE ....................................................................................................... 158
PLOUGHSHARES ACTIVIST SENTENCED TO SIX MONTHS .................................................................... 158
UK PACIFIST JAILED FOR ANNOYING BRITISH AEROSPACE................................................................. 159
Page 8 East Timor Documents, Volumes 36-37. March 13 - June 26, 1995.
PROTESTS AT BRITISH AEROSPACE AGM PRESS REPORTS........................................................................ 159
MORE BLOOD FOR BAE......................................................................................................................... 160
DIE-IN LINKS LONDON WITH EAST TIMOR........................................................................................... 160
PILGER SAYS AUSTRALIAN LEADERS APOLOGISTS FOR BIG POWERS....................................................... 161
EVENTS IN PORTUGAL............................................................................................................................. 161
SPANISH LABELS ON INDONESIAN PINEAPPLE......................................................................................... 161
INDONESIAN COMPUTER COMPONENTS REJECTED BY PARLIAMENT....................................................... 161
SUHARTO'S DAUGHTER PAYS FOR "LUSO-INDONESIA" EVENING............................................................. 161
THE MEMORY OF TIMOR............................................................................................................................ 162
INDONESIA ROCKS THE CRADLE .............................................................................................................. 162
EAST TIMOR AND THE INTERNATIONAL COMMUNITY ............................................................................... 163
EAST TIMOR COULD BE CATALYST FOR INDONESIAN CHANGE – MINISTER......................................... 164
ANDERSON: MEMORIES, PREDICTIONS AND THE MAGIC NAME............................................................... 165
TIMOR ON THE MAP (JOURNADAS ENDS).................................................................................................. 166
YENI DAMAYANTI: XANANA HERO TO INDONESIA'S YOUTH .................................................................... 166
PORTUGUESE NATIONAL BANK FINANCED MANUEL MACEDO .................................................................. 167
PORTUGUESE SCHOOL IN JAKARTA AND OTHER PIFA FOLKLORE ............................................................ 168
TIMORESE WANT TO JOIN THE UCCLA...................................................................................................... 168
BASE STRATEGIES ..................................................................................................................................... 168
EXPO 98 - INDONESIA NOT INVITED ......................................................................................................... 169
NO MUSIC IN INDONESIA......................................................................................................................... 169
SUHARTO REAPS PROFITS......................................................................................................................... 169
LISBON DOUBTS JAKARTA WILL CHANGE POLICIES ................................................................................. 169
WHEN TO LEARN IS TO RESIST ................................................................................................................. 169
THE NEXT STEPS - AMBITIONS PLANS.................................................................................................. 170
PORTUGUESE DOORS OPEN TO INDONESIANS ........................................................................................ 170
PORTUGUESE DOCTORS MAY BOYCOTT WMA MEETING IN INDONESIA ................................................... 171
PORTUGUESE MEP JOÃO SOARES INDIGNANT......................................................................................... 172
NUNO ROCHA CRITICAL OF JAKARTA........................................................................................................ 172
WORLD PARLIAMENTARIANS MEET IN LISBON ......................................................................................... 172
PARLIAMENTARIANS WANT GUSMÃO FREED ........................................................................................ 173
PARLIAMENTARIANS ON SRI BINTANG PAMUNGKAS............................................................................ 173
INTERNATIONAL INTER-PARLIAMENTARY CONFERENCE "LISBON DECLARATION" .............................. 173
EVENTS IN IRELAND................................................................................................................................ 175
PILGER GETS AWARD FROM DUBLIN CITY UNIVERSITY ............................................................................ 175
PROTEST AT AUSTRALIAN EMBASSY IN DUBLIN ........................................................................................ 175
IRISH HIT AUSTRALIA ON TIMOR RIGHTS ............................................................................................ 175
IRISH DEMOCRATIC LEFT MOTION............................................................................................................ 175
IRISH TO PROTEST HABIBI ........................................................................................................................ 175
INDONESIAN AMBASSADOR IN IRELAND............................................................................................. 175
ENVOY AVOIDS TIMOR PROTEST.......................................................................................................... 176
HABIBIE IN IRELAND............................................................................................................................ 176
HUMAN RIGHTS AND WRONGS IN EAST TIMOR ................................................................................... 176
IRISH MEP LINKS EU GRANT TO RIGHTS IN INDONESIA.......................................................................... 177
IRISH SENATE TO DEBATE LISBON DECLARATION .................................................................................... 177
NORRIS CALLS FOR TRIBUNAL ON EAST TIMOR GENOCIDE ..................................................................... 177
EVENTS IN GERMANY - AND RETALIATION............................................................................................. 178
SUHARTO UNWELCOME IN WEIMAR.......................................................................................................... 178
GERMAN CITY DECLARES SUHARTO UNWELCOME GUEST ................................................................... 178
East Timor Documents, Volumes 36-37. March 13 - June 26, 1995 Page 9
PROTESTS AT THE HANOVER INDUSTRIAL FAIR........................................................................................ 178
PASTORS WRITE TO KOHL......................................................................................................................... 178
DRESDEN'S ROWDY WELCOME FOR SUHARTO ......................................................................................... 179
SUHARTO'S TROUBLES IN DRESDEN .................................................................................................... 179
SUHARTO'S VISIT TO DRESDEN ................................................................................................................. 179
PROTESTS AROUSE JAKARTA ANGER ........................................................................................................ 180
SUHARTO DIRECTLY THREATENS DISSIDENTS..................................................................................... 180
ASAHI ON SUHARTO'S CRACKDOWN......................................................................................................... 181
PROTESTERS 'INSANE,' SAYS SUHARTO .................................................................................................... 181
OPPOSITION THREATENED WITH JAIL IN INDONESIA.............................................................................. 181
GOENAWAN, BINTANG DENY INVOLVEMENT IN GERMAN PROTEST ......................................................... 182
BINTANG SUMMONED BY POLICE ............................................................................................................. 183
INDONESIA POLICE TO QUESTION MP ON TUESDAY............................................................................ 183
INDONESIAN MP FACES POSSIBLE DEFAMATION CHARGE .................................................................. 183
BINTANG INVITATION CONFIRMED ........................................................................................................... 183
INTERVIEWS YENI & OLTMANS ................................................................................................................. 183
GOVERNMENT ATTACKS INDIVIDUALS FOR DEMONSTRATIONS IN GERMANY ......................................... 184
PAMUNGKAS MP NAMED AS 'SUSPECT' ..................................................................................................... 184
SRI BINTANG PAMUNGKAS MP: FEAR OF ARREST................................................................................. 184
SUHARTO RETALIATES AGAINST CRITICS: OFFI CIAL REACTIONS TO DEMONSTRATIONS IN GERMANY.... 185
BINTANG TO FACE POLICE THURSDAY ...................................................................................................... 188
BINTANG QUESTIONING BOGGED DOWN ............................................................................................ 188
SRI BINTANG, SRITEX, AND HARMOKO:.................................................................................................... 189
ECONOMY, TRADE AND THE OMISSION OF HUMAN RIGHTS .................................................................. 190
THE CHARGES AGAINST SRI BINTANG..................................................................................................... 192
EVENTS IN EUROPE................................................................................................................................. 192
BUSINESS DEALS BETWEEN MADRID AND JAKARTA................................................................................. 192
SPAIN'S HIGHEST AWARD SECRETLY PRESENTED TO INDONESIAN GENERAL......................................... 192
MEETING TODAY IN FRANCE - EUROPEAN PARLIAMENT-INDONESIA FRIENDSHIP GROUP...................... 193
EUROPEAN PARLIAMENTARY MISSION TO ET............................................................................................ 193
THE OTHER SIDE OF PARADISE - DUTCH ACTIONS................................................................................... 193
(WARSHIP) MARKETING OPPORTUNITIES IN SOUTHEAST ASIA................................................................. 194
BELGIUM - INDONESIA MILITARY RELATIONS........................................................................................... 194
TOWARD A EUROPEAN ARMS TRADE CODE............................................................................................... 195
REPORT: EAST TIMORESE SPEAKING TOUR IN FRANCE............................................................................ 195
EVENTS IN CANADA................................................................................................................................. 195
BELLA'S STORY: EAST TIMORESE WOMAN SPEAKS OUT FOR JUSTICE....................................................... 195
CANADIAN EAST TIMOR UPDATE #40 ........................................................................................................ 196
CANADIAN EAST TIMOR UPDATE #41 ........................................................................................................ 197
ENJOY THE SHOE MUSEUM, BUT ... ... BOYCOTT BATA SHOES! ................................................................. 197
CANADA ABANDONS HUMAN RIGHTS TRADITIONS................................................................................... 198
HALIFAX G-7 SUMMIT AND EAST TIMOR ACTIONS..................................................................................... 198
EVENTS IN THE UNITED STATES............................................................................................................. 198
CONGRESSMEMBERS WRITE CLINTON ..................................................................................................... 198
SENATE LETTER .................................................................................................................................... 199
FERRARO: DESPITE PROGRESS, UNHRC WORK "FAR FROM BEING DONE"............................................... 199
ASIA PACIFIC CENTER FORMED IN WASHINGTON; SEEKS EXECUTIVE DIRECTOR ................................... 200
WINSTON LORD: VOLUNTARY BUSINESS PRINCIPLES COMING IN 'NEAR FUTURE' .................................. 200
WINSTON LORD CALLS FOR IMET ............................................................................................................. 201
Page 10 East Timor Documents, Volumes 36-37. March 13 - June 26, 1995.
TIMOR BIG PROBLEM FOR INDONESIA ..................................................................................................... 201
CONGRESS SLAMS US HR POLICY............................................................................................................. 202
U.S. PLEDGES TO SELL MILITARY EQUIPMENT TO JAKARTA...................................................................... 202
U.S. KEEN TO SELL WEAPONS TO INDONESIA...................................................................................... 202
IMET FOR INDONESIA IN 1996? ............................................................................................................ 202
INDONESIA WELCOMES U.S. PLANS ON WEAPONS SALES ................................................................... 203
SHATTUCK: ASIAN SOCIETIES SHIFTING AWAY FROM AUTHORITARIANS ................................................. 203
ETAN OPPOSES RENEWED MILITARY TRAINING AND ARMS SALES TO INDONESIA.................................. 206
U.S. OFFICIALS EXHIBIT DICHOTOMY IN POLICY ON INDONESIA AND HUMAN RIGHTS .......................... 206
ALATAS: WE WILL NOT BEG ....................................................................................................................... 207
EX-SECRETARY OF STATE BAKER SAYS US POLICY ON EAST TIMOR "A MISTAKE" ..................................... 207
IMET: THE US CONGRESS IS OBSTINATE, NOT THE GOVERNMENT........................................................... 208
COMPROMISING HUMAN RIGHTS ............................................................................................................. 208
METHODIST RESOLUTION ON EAST TIMOR............................................................................................... 209
ARMS AND THE MAN (SOLARZ).................................................................................................................. 209
THE BUDDY SYSTEM: CLINTON WANTS TO RESUME MILITARY TRAINING FOR INDONESIA...................... 209
U.S. HUMAN RIGHTS OFFICIAL VISITS EAST TIMOR .................................................................................. 210
US RIGHTS OFFICIAL QUESTIONS TIMOR KILLINGS............................................................................. 210
SHATTUCK - REDUCE TROOPS, GIVE AUTONOMY................................................................................. 210
U.S. RIGHTS OFFICIAL SEEKS TROOP CUTS IN TIMOR ......................................................................... 211
SHATTUCK SEES REASONS FOR ENCOURAGEMENT, CONCERN IN INDONESIA................................... 211
VOA EDITORIAL: SHATTUCK IN INDONESIA ......................................................................................... 214
NO SCHOLARSHIPS FOR INDONESIA'S SOLDIERS.................................................................................... 214
AI: NO IMET FOR INDONESIA.................................................................................................................... 215
SEN. LEAHY: A CHANCE FOR JUSTICE IN EAST TIMOR.............................................................................. 215
F-16 SALE TO INDONESIA GAINS WIDER SUPPORT................................................................................... 215
SENATE COMMITTEE PASSES FEINGOLD AMENDMENT ON INDONESIA.................................................... 215
US SENATE RESTRICTS ARMS SALES TO INDONESIA............................................................................ 216
AI ON US MILITARY AID TO INDONESIA.................................................................................................... 216
U.S. REBUKED FOR INCREASING ARMS SALES TO INDONESIA............................................................ 217
U.S. LEADS IN ARMS SALES TO CONFLICT ZONES..................................................................................... 217
PROTESTS AT INDONESIA BUSINESS FORUM IN SAN FRANCISCO............................................................ 218
CALIFORNIA CLERGY CHALLENGE INDONESIAN TRADE OFFICIALS..................................................... 219
BACKGROUND ON EAST TIMOR AND US POLICY....................................................................................... 219
INDONESIAN AIRCRAFT TO BE BUILT IN ALABAMA.................................................................................... 221
URGE CONGRESS TO SUPPORT EAST TIMOR: NO IMET FOR INDONESIA.................................................. 221
PORTUGUESE CONGRESSIONAL CAUCUS LETTER ................................................................................ 222
LOWEY DENOUNCES AID TO INDONESIA............................................................................................. 224
INDONESIA'S LOBBYING EFFORTS ON IMET ............................................................................................. 224
SUHARTO ON FOREIGN AID ...................................................................................................................... 225
PETITION ON WORKER RIGHTS TO THE U.S. TRADE REPRESENTATIVE .................................................... 225
AUSSIES ATTACK US OVER EAST TIMOR .................................................................................................... 229
AN IRISHMAN'S DAIRY .............................................................................................................................. 229
COMMENT FROM REV. MAX SURJADINATA........................................................................................... 230
ROBERT BARRY STATEMENTS .................................................................................................................... 230
RESOURCES............................................................................................................................................. 230
DEATH OF A NATION ON BBC WORLD SERVICE TV.................................................................................... 230
NEW SERVICE PROFILES US/INDON TRADE ............................................................................................. 230
NEW INDONESIAN INFORMATION RESOURCE: INTEL............................................................................... 231
IPJET BOOK ON INTERNATIONAL LAW AND EAST TIMOR.......................................................................... 232
East Timor Documents, Volumes 36-37. March 13 - June 26, 1995 Page 11
THE AUSTRALIAN: TWO BOOK LAUNCHES AND A LECTURE....................................................................... 233
NEW WORLD COUNCIL OF CHURCHES PUBLICATION ............................................................................... 234
MANUFACTURING CONSENT TO BE ON 27 US PUBLIC TV STATIONS ......................................................... 234
INDONESIAN GOVERNMEN T TO PUBLISH BOOK ON EAST TIMOR............................................................. 234
Zone des conditions d'accès et d'utilisation
Conditions de reproduction
Notes de langue et graphie
Caractéristiques matérielle et contraintes techniques
Zone des sources complémentaires
Existence et lieu de conservation des originaux
Existence et lieu de conservation des copies
Unités de description associées
Zone des notes
Identifiant(s) alternatif(s)
Zone du contrôle de la description
Dates de production, de révision, de suppression
Document numérique - métadonnées
Document numérique (URI externe) zone des droits
Document numérique (Référence) zone des droits
Document numérique (Vignette) zone des droits