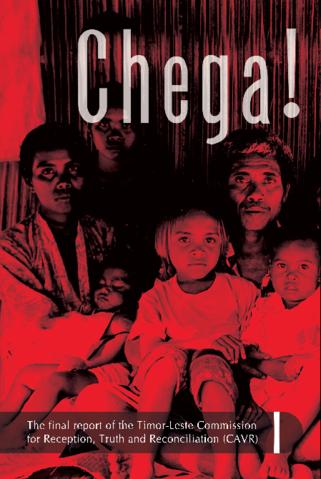 Área de identidad
Código de referencia
BU TLCAVR-PUBS-finalreport
Título
Chega! The final report of the Timor-Leste Commission for Reception, Truth and Reconciliation
Volumen y soporte
Printed report, 5 volumes.
Área de contexto
Origen del ingreso o transferencia
Courtesy Centro Nacional Chega!
Área de contenido y estructura
Alcance y contenido
The final report of the Commission for Reception, Truth and Reconciliation (CAVR) was entitled Chega! (Portuguese for No More or Enough). It documents human rights abuses in the period 1975-1999. The report was completed in 2005; this version is the English translation, as published by Gramedia in 2013.
Contents to Volume 1
xix │ Map of Timor-Leste
xx │ Appreciation to donors
xxi │ Foreword by Archbishop Desmond Tutu, Nobel Peace Laureate
xxii │ Preface by Aniceto Guterres Lopes, Chair CAVR
1 │ Presentation of the Report by CAVR National Commissioners
3 │ Part 1: Introduction
7│Background to the Commission
8 │ From colonialism to militarised occupation
12 │ Coming together: reconciliation
14 │ Organising principle of this Report
14 │ The truth
16│Origins of the Commission
16 │ The workshop and the CNRT Congress
17 │ Results of the Steering Committee's community consultations
19 │ Choosing the name of the Commission
19 │ Regulation 10/2001, establishing the Commission
20 │ Interim office
20 │ The CAVR Advisory Council
21│Formation of the Commission
21 │ National Commissioners
25 │ Principles and mission of the Commission
26 │ Regional Commissioners
27│Operational issues and challenges
27 │ Practical challenges to the Commission's work
28 │ The challenge of language
29 │ An integrated community-based approach
32 │ The strategic plan
34│Core programmes
34 │ Truth-seeking
42 │ Community Reconciliation
44 │ Reception and victim support
45 │ Final Report
47 │ Archives
48 │ The Commission's obligations to participants in its core programmes
49│National and regional offices and staffing
49 │ National Office
51 │ The CAVR as a learning institution
52 │ Institutional development and capacity building
53 │ Gender and staffing
53 │ Regional offices and district teams
54 │ Gender in practice in district work
55 │ The role of international staff in the Commission
56│Management and administration
56 │ Management structure
56 │ Administration
57 │ Finance
57 │ Downsizing and restructuring
58│Building relationships for the future
58 │ Direct relationships
60 │ Media and information campaigns
61 │ The international community
62 │ Community outreach and public information
69 │ Part 2: The Mandate of the Commission
73│Introduction
74 │ Temporal boundaries
75 │ Issues of particular relevance
75 │ The meaning of "related to the political conflict"
75 │ Human rights violations
76 │ The Commission's definition of "human rights violations"
77 │ Priority given to particular categories of violation
78 │ Inquiry-related powers
78 │ Liability of Commissioners and staff
79 │ Confidential information provided to the Commission
79 │ The use of specific names in the Report
84 │ Standards used in determining issues of responsibility and accountability
84 │ The Indonesian invasion of Timor-Leste
85 │ Justice of war and justice in war
86 │ Community Reconciliation Procedures
87 │ The community-based approach of the Commission
88│Annexe A: relevant legal principles
89 │ Introduction – international law relevant to the mandate
133│ Part 3: History of the Conflict
143│Introduction
145│Portuguese colonialism in Timor-Leste
145 │ Overview
146 │ The arrival of the Portuguese
147 │ Colonial consolidation
148 │ Portuguese governance and Timorese resistance
149 │ Portuguese Timor in the 20th century
150 │ The international movement for decolonisation and Portugal's position
151 │ Portuguese development plans and growing anti-colonial sentiments
152│Changes in Portugal and the decolonisation process
152 │ Overview
152 │ The MFA and the Carnation Revolution
154 │ The impact of the Carnation Revolution in Portuguese Timor
155 │ The formation of political parties in Portuguese Timor
157│The international climate and Indonesia's policy on Portuguese Timor
157 │ Overview
157 │ The United Nations and Portuguese Timor
158 │ Indonesia and the international community
160 │ Indonesian policy on Portuguese Timor
163│The decolonisation process and political parties
163 │ Overview
164 │ The dawning of political consciousness
165 │ The composition of the political parties
166 │ Internal developments and tensions
167 │ The political parties prepare for armed confrontation
169 │ Fretilin and the spectre of communism
171 │ Lack of political tolerance
172 │ Governor Lemos Pires's "mission impossible"
173 │ The coalition between UDT and Fretilin
174│ Indonesia's growing involvement in Portuguese Timor: destabilisation and diplomacy
174 │ Overview
175 │ Operasi Komodo and increased covert military operations
176 │ Indonesian diplomacy
182 │ The armed movement of 11 August and the internal armed conflict
182 │ Overview
183 │ UDT launches its 11 August armed movement
185 │ The failure to negotiate: internal armed conflict
187 │ UDT retreats to the border
187 │ Portugal's response to the internal conflict
188 │ Indonesia's response
189 │ Portuguese Timor under Fretilin administration
189 │ Overview
189 │ Fretilin fills the vacuum
190 │ Prisoners and political violence
192 │ Restoring order
193 │ Administration
195 │ Balibó: Indonesia increases intensity of military operations
196 │ Fretilin's unilateral declaration of independence, and the response
196 │ Overview
197 │ Background to Fretilin's unilateral declaration of independence
199 │ The declaration of independence
201 │ Reactions to the declaration of independence
203 │ Full-scale invasion imminent
203 │ Full-scale invasion
203 │ Overview
204 │ Indonesia's decision to invade and conduct open warfare
205 │ Dili prepares its defence strategy
206 │ Indonesian military preparations: Operation Seroja (Lotus)
206 │ Invasion of Dili and Baucau
211 │ United Nations response to the full-scale invasion
212 │ Timorese experience of early occupation and Indonesia's attempts to formalise integration
212 │ Overview
213 │ AB RI consolidates; Indonesia installs "Provisional Government"
214 │ Fretilin in retreat, the massacres of prisoners
214 │ ABRI advances, early 1976
215 │ East Timorese experience of the early occupation
216 │ Fretilin regroups
217 │ Indonesia formalises the integration
218 │ Operation Seroja continues – US -supplied OV-10 Bronco aircraft introduced
219 │ Military stalemate, late 1976
219 │ "Encirclement and annihilation": the final stages of Operation Seroja 1977–1979
219 │ Overview
220 │ Civilian population in the mountains
220 │ ABRI capacity stretched and early Fretilin confidence
221 │ US leads re-arming of the Indonesian military
222 │ Fretilin: internal divisions and violent purge
223 │ ABRI intensifies military operations: encirclement and annihilation, August 1977 to August 1978
227 │ Surrender: coming down from Matebian
228 │ Surrender, resettlement and famine
228 │ Overview
229 │ Surrender and execution of prisoners
230 │ Transit camps
231 │ Longer-term detention camps and ABRI's security strategy
231 │ A closed land
233 │ ICRC and CRS relief
234 │ Ataúro as a prison island
235 │ Detention camps close
235 │ Operation Security (Operasi Keamanan)
235 │ Overview
236 │ The situation in Dili and across Timor-Leste 1979–1980
237 │ The first uprising: Dili, June 1980
237 │ "Fence of legs": Operasi Kikis
239 │ Consequences of the operation
241 │ Rebuilding the Resistance
241 │ Overview
241 │ Fretilin survivors of the 1978–1979 offensives
242 │ Regrouping
244 │ National Re-organisation Conference in March 1981
245 │ Growth of the Resistance
246 │ The Resistance under Xanana Gusmão: towards national unity
247 │ The Catholic Church
248 │ 1983 Ceasefire and its aftermath
248 │ Introduction
248 │ Indonesian national elections in Timor-Leste: 1982
249 │ Shake-up of Indonesian civilian and military personnel, and Resistance actions
250 │ New approach by the Indonesian military: negotiations
251 │ Ceasefire
251 │ Appointment of Benny Moerdani as ABRI commander-in-chief: 1983
252 │ Monsignor Lopes removed
252 │ Ceasefire undermined
254 │ The end of the ceasefire
255 │ Consolidation and the beginnings of change: 1984–1991
255 │ Overview
256 │ Development of the Resistance
258 │ Repression and imprisonment
259 │ The rise of the clandestine youth movement
259 │ The Catholic Church
260 │ The situation at the United Nations
261 │ The visit of Pope John Paul II
263 │ Jakarta opens Timor-Leste
263 │ International developments toward the end of the decade
264 │ Turning Points
264 │ Overview
265 │ The Santa Cruz Massacre, 12 November 1991
267 │ The international impact of Santa Cruz
268 │ The capture of Xanana Gusmão
269 │ The student clandestine network
271 │ CNRM Peace Plan and diplomatic initiatives
272 │ The International Court of Justice case: Portugal v Australia, 1991–1995
272 │ The Nobel Peace Prize, 1996
273 │ The United Nations
274 │ From Reformasi to announcement of the Popular Consultation
274 │ Overview
275 │ The fall of Soeharto
277 │ The CNRT and the diplomatic campaign
277 │ The impact of Reformasi in Timor-Leste
278 │ Emergence of the militias
280 │ Xanana Gusmão calls for tolerance
281 │ Negotiations on the autonomy package
283 │ Growing militia terror
284 │ The 5 May Agreements
285 │ Security arrangements under the 5 May Agreements
286 │ Popular Consultation
286 │ Overview
287 │ UNAM ET deployment
287 │ Electoral Commission
288 │ The choice
288 │ Indonesian government coordination for the Popular Consultation
288 │ International presence in Timor-Leste
289 │ East Timorese and Indonesian observers
289 │ Security for the ballot
290 │ TNI-militia violence: June–July
291 │ Dare II
292 │ Voter registration
293 │ The campaign
295 │ Declining security situation: August
297 │ Final preparations for the vote
297 │ The ballot
298 │ The count and the results
299 │ Indonesia departs: scorched earth
299 │ Overview
300 │ Violence following announcement of the results
301 │ TNI takes formal control
303 │ The UNAMET compound
304 │ Growing international pressure
306 │ Forced evacuation of population
307 │ Interfet arrives: TNI withdraws
308 │ The formation of UNTAET: Security Council Resolution 1272, 25 October 1999
308 │ Returning home
339 │ Part 4: Regime of Occupation
343│Introduction
344│The Indonesian armed forces and their role in Timor-Leste
344 │ Introduction
345 │ Background of the Indonesian armed forces
352 │ Organisational structures of the Indonesian armed forces in Timor-Leste
363│Militarisation of East Timorese society
363 │ Introduction
364 │ Pre-Indonesian militarisation of Timor-Leste
365 │ Indonesian militarisation of Timorese political parties before the occupation
367 │ Establishment of East Timorese combat battalions
368 │ Early paramilitaries, 1976–1981
368 │ Paramilitaries in the 1980s
369 │ Civil defence forces
372 │ "Three-month military men", (Milsas) 1989–1992
372 │ Operations assistants (Tenaga Bantuan Operasi, TBOs)
373 │ 'Intel' – East Timorese spies
376 │ 1990s and a focus on youth
376 │ Death squads
377 │ Militias, 1998–1999
389│Civil administration
389 │ The Provisional Government of Timor-Leste
413 │ Part 5: Resistance: Structure and Strategy
417│Introduction
420│Fretilin and the bases de apoio
420 │ Organisation of civilians
423 │ Military organisation
426 │ Fretilin's socio-economic programme
432 │ Strategy
435 │ Protracted people's war
436 │ Internal conflict
442│The end of bases de apoio
447│Restructuring the Resistance 1981–1987
447 │ Reorganising the Resistance for the new situation
451 │ Strategy
456│Falintil after 1987
466│Clandestine liberation movement
479 │ Part 6: The Profile of Human Rights Violations in Timor-Leste, 1974–1999
487│Introduction
488 │ Summary of key findings
490 │ Overview of the Commission's information management and
data collection methods
491 │ Historical violation estimates in Timor-Leste and their
limitations
493│Fatal violations: analysis
493 │ Background and overview of statistical analysis of fatal violations
494 │ Objectives of analysis
xiv │ Chega! - Volume I
495 │ Overview of data and methods
496 │ Estimates of killings, deaths due to hunger and illness, and displacement
505 │ Descriptive statistical analysis of fatal violations reported to the Commission
525│Non-fatal violations
525 │ Introduction
525 │ Overview of statistical findings on non-fatal violations
528 │ In-depth descriptive statistical analysis of non-fatal violations
584│Mau Chiga case study
584 │ Introduction
584 │ Background to documentation effort
584 │ Limitations of the data
585 │ Historical background
586 │ Descriptive statistical analysis of violations reported to Mau Chiga Documentation Project
593│Summary and conclusion
Tables:
63 │ Milestones of the Commission
353│ Structure of military commands in Timor-Leste
377│ Militias in Timor-Leste, 1975–1999
390│ Indonesian administration structure, with Portuguese and Indonesian military
equivalents
395│ Composition of the Timor-Leste Provincial Assembly by Faction, 1980–1997
399│ District administrators by origin and affiliation, 1976–1999
421│ Fretilin regional structure since May 1976
422│ Fretilin administrative structure
450│ Military division of the territory at the National Reorganisation Conference
507│ Count of reported acts of civilian killing, 1975
510│ Reported acts of civilian killings and disappearances
513│ Percentage share of attributed responsibility for reported killings by phase,
1975–1999
523│ Reported violations & their detention context by district, 1974–1999
524│ Reported fatal violations & their detention context by violations, 1974–1999
525│ Reported fatal violations & their detention context by phase, 1974–1999
529│ Non-fatal violations by datasource, 1974–1999
530│ Relative distributions of victims per violation, the CAVR data
Volume I - Chega! │ xv
531│ Relative distributions of victims per violation, Fokupers data
531│ Relative distributions of victims per violation, Amnesty International data
535│ Non-fatal violations reported to the CAVR
547│ Violations by district
551│ Pattern of victims by sex
552│ Pattern of victims by sex over time
553│ Pattern of victims by sex between district
554│ Pattern of victims by age
555│ Pattern of victims by age over time, 1974–1999
556│ Pattern of victims by age between districts
564│ Data distribution based on CAVR, Fokupers, Amnesty International databases
573│ Reported violations and their detention context, based on types of violations, 1974–1999
574│ Reported violations and their detention context, based on phases, 1974–1999
575│ Reported violations and their detention context, based on districts, 1974–1999
576│ Reported violations and their detention context, based on sex, 1974–1999
577│ Reported violations and their detention context, based on age, 1974–1999
588│ Distribution of reported duration periods of displacement events of Mau Chiga residents, 1982–1985
589│ Cross-tabulation of reported duration periods of displacement events of Mau Chiga residents by location, 1982–1985
591│ Distribution of reported fatal violations by political affiliation of victim, 1974–1999
592│ Distribution of reported fatal violations by political affiliation and geographic
location, 1974–1999
Graphics:
497│ Estimated total killings in Timor-Leste based on RMS
498│ Estimated total killings in Timor-Leste using HRVD and GCD data
500│ Estimated total deaths by hunger/illness in Timor-Leste based on RMS
501│ Estimated total deaths by hunger/illness in Timor-Leste using dual system
503│ Estimated displacement events in Timor-Leste (with error bands)
504│ Total displaced households in Timor-Leste by region
506│ Number of reported acts of civilian killings, 1974−1999
506│ Number of reported acts of disappearance, 1974−1999
508│ Count of reported violations, by type and district
508│ Count of disappearance by region over time, 1974−1999
509│ Count of civilian killings by region over time, 1974−1999
511│ Fatal violations over time, 1974−1999, committed by territorial units
512│ Fatal violations over time, 1974−1999, committed by non-territorial units
512│ Fatal violations over time, 1974−1999, committed by Civil Defence Forces
514│ Count of victims of acts of civilian killings by victim group size, 1974−1999
515│ Count of victims of acts of disappearance by victim group size, 1974−1999
516│ Violations over time, 1974−1999
516│ Violations over time, 1974−1999
518│ Number of reported acts of civilian killings, by age and sex, 1974−1999
518│ Number of reported acts of disappearance, by age and sex, 1974−1999
519│ Age-sex specific violation rate of civilian killings (per 10,000 persons),
1974−1999
519│ Age-sex specific violation rate of disappearance (per 10,000 persons), 1974−1999
520│ Reported acts of civilian killings by victim affiliation, 1974−1999
520│ Reported acts of disappearance by victim affiliation, 1974−1999
521│ Number of reported acts of civilian killings, 1974−1999
522│ Number of reported acts of detention, 1974−1999
532│ Number of reported acts of non-fatal violations, 1974−1999
533│ Count of reported acts of detention, torture & ill-treatment, 1999
534│ Violations over time, 1999
536│ Count of reported acts of non-fatal violations attributed to Fretilin, UDT and Apodeti, 1975
537│ Violations over time, 1974−1999
538│ Non-fatal violations over time committed by Civil Defence Forces, 1974−1999
538│ Violations over time committed by Kopassus, 1974−1999
539│ Non-fatal violations over time committed by Police, 1974−1999
539│ Violations over time, 1974−1999
540│ Violations over time, 1999
541│ Reported acts of detention attributed to TNI, Police and Timorese Auxiliaries,
1974−1999
542│ Reported acts of torture attributed to TNI, Police and Timorese Auxiliaries,
1974−1999
542│ Reported acts of ill-treatment attributed to TNI, Police and Timorese Auxiliaries,
1974−1999
543│ Reported acts of detention attributed to TNI, Police and Timorese Auxiliaries,
1974−1999
543│ Reported acts of torture attributed to TNI, Police and Timorese Auxiliaries, 1999
544│ Reported acts of ill-treatment attributed to TNI, Police and Timorese Auxiliaries,
1999
545│ Count of reported acts of sexually-based violations attributed to TNI, Police and
Timorese Auxiliaries, 1974−1999
545│ Count of reported acts of sexually-based violations attributed to TNI, Police and
Timorese Auxiliaries, 1999
546│ Count of reported acts of property/economic violations attributed to TNI, Police and
Timorese Auxiliaries, 1974−1999
548│ Count of reported violations, by type and district (1)
549│ Count of reported violations, by type and district (2)
550│ Count of all reported non-fatal violations by region over time, 1974−1999
557│ Age-sex specific detention rate (per 10,000 persons), 1974−1999
558│ Age-sex specific torture rate (per 10,000 persons), 1974−1999
558│ Age-sex specific ill-treatment rate (per 10,000 persons), 1974−1999
559│ Age-sex specific violation rate of detention (per 10,000 persons), 1974−1999
559│ Age-sex specific violation rate of torture (per 10,000 persons), 1974−1999
560│ Age-sex specific violation rate of ill-treatment (per 10,000 persons), 1974−1999
560│ Number of reported acts of rape, by age and sex, 1974−1999
561│ Age-sex specific violation rate of rape (per 10,000 persons), 1974−1999
561│ Number of reported acts of sexual slavery, by age and sex, 1974−1999
562│ Age-sex specific violation rate of sexual slavery (per 10,000 persons), 1974−1999
562│ Number of reported acts of sexual violence, by age and sex, 1974−1999
563│ Age-sex specific violation rate of sexual violence (per 10,000 persons), 1974−1999
565│ Violations over time, 1974−1999
566│ Count of victims of acts of detention by victim group size, 1974−1999
567│ Count of victims of acts of torture by victim group size, 1974−1999
567│ Count of victims of acts of ill-treatment by victim group size, 1974−1999
568│ Violations over time, 1974−1999
569│ Reported acts of torture over time, 1974−1999
569│ Violations over time, 1974−1999
570│ Reported acts of threats over time, 1974−1999
570│ Reported acts of sexual based violence over time, 1974−1999
571│ Count of reported violations, by type and district
572│ Violations over time, 1974−1999
578│ Reported number of detainees on Ataúro, June 1980−October 1984
579│ Count of reported detentions, in and out of Ataúro, 1974−1999
579│ Reported acts of non-fatal violations by victim affiliation, 1974−1999
580│ Reported acts of non-fatal violations by victim affiliation, 1974−1979
580│ Reported acts of non-fatal violations by victim affiliation, 1980−1989
581│ Reported acts of non-fatal violations by victim affiliation, 1990−1998
581│ Reported acts of non-fatal violations by victim affiliation, 1999
582│ Number of reported acts of detention, by victim affiliation
582│ Number of reported acts of torture, by victim affiliation
583│ Reported acts of ill-treatment by victim affiliation, 1974−1999
583│ Reported acts of property/economic violations by victim affiliation,
1974−1999
587│ Number of reported displacement victims, by age and sex, 1974−1999
590│ Fatal violations over time, 1974−1999
593│ Number of reported hunger/illness deaths, by age and sex, 1974−1999
Contents to volume 2
595 │ Part 7.1: The Right to Self-Determination
601│ I ntroduction
601│ P reface
602│ The right of the people of Timor-Leste to self-determination
603│ O bligations of states
604│ The international context
606│ S ources
607│ The United Nations and the three major
stakeholders
607│The United Nations
609│Portugal
616│Indonesia
625│Australia
635│ The Security Council, its permanent members and Japan
635│The Security Council
642│China
645│France
648 │Russia (USSR)
651 │United Kingdom
657 │United States
667 │Japan
673 │Conclusion
675 │The Vatican
675 │Preface
675 │Background to the Vatican
676 │The Catholic Church in Timor-Leste
676 │Bishop José Joaquim Ribeiro (1966–1977)
677 │Dom Martinho da Costa Lopes (1977–1983)
680 │Dom Carlos Filipe Ximenes Belo SDB (1983–2003)
682 │Pope John Paul II's visit to Timor-Leste in 1989
686 │Conclusion
686 │ The diplomacy of the resistance
687 │Political parties and umbrella bodies
703│The diaspora
706│Conclusion
708│Civil society
708│Preface
709│International civil society
732│Indonesian civil society
739│Conclusion
740│Findings
740│The international community
742│The key stakeholders
757 │ Part 7.2: Unlawful Killings and Forced Disappearances
769 │ I ntroduction
769 │ D efinitions
772 │ M ethodology
773 │ Quantitative overview
773 │ Killings and disappearances perpetrated by the Resistance
774 │ Killings and disappearances perpetrated by the Indonesian
security forces
776 │ U nlawful killings and enforced disappearances during
the internal conflict: 11 August–24 September 1975
783 │ U nlawful killings before the UDT armed action of 11 August
783 │ Killings on 11 August, the day of the UDT armed movement
786 │ U nlawful killings following the UDT armed movement, 12–17 August
790 │ U nlawful killings between 18–20 August
792 │ Killings between 21 August and 30 August, the major period of
the internal armed conflict
796 │ Execution of detainees and other killings in September
799 │ O ther killings
801│ U nlawful killings and enforced disappearances during
the Indonesian occupation (1975–1999)
801│ U nlawful killings by Indonesian military before the invasion in
December 1975
806│ U nlawful killings by Indonesian military during the invasion of
Dili 7–8 December 1975
825│ U nlawful killings by Fretilin after the Indonesian invasion
(December 1975 and February 1976)
838│ U nlawful killings and enforced disappearances by ABRI after the
Indonesian invasion, 1976–1979
854│ Killings after the fall of the bases de apoio
913│ U nlawful killings and enforced disappearances by Fretilin/
Falintil 1976–1979
944 │Unlawful killings and enforced disappearances by ABRI/TNI
1980–1984
1001│Unlawful killings and enforced disapperances by TNI 1985–1989
1005│Unlawful killings and enforced disappearances by Indonesian
security forces, 1990–1998
1045│Fatal violations committed by Fretilin/Falintil, 1980–1999
1058│Unlawful killings and enforced disappearances, 1999
1116│Findings
1118│Internal conflict, 1974–1976
1122│Indonesian Occupation 1975–1999
1165 │ Part 7.3: F orced Displacement and Famine
1173│ I ntroduction
1175│ D efinitions and methodology
1175│Displacement
1177│Famine
1179│Gathering information
1180│ D isplacement and famine caused by internal conflict
(1974–1975)
1180│Displacement due to political rivalries (1974–1975)
1181│Displacement caused by the internal conflict
1182│The flight to West Timor
1184│Forcible transfer to West Timor
1185│Refugee numbers in West Timor
1186│Conditions and humanitarian assistance in West Timor
1188│Food shortages and humanitarian assistance in Timor-Leste
1188│Hunger and deaths
1189│ D isplacement and famine during the Indonesian
occupation (1975–1979)
1189│Invasion, displacement and evacuation 1975–1977
1198│Life and death in the mountains (1976–1978)
1210│On the run (1976–1978)
1225│Surrender, camps and famine (1978–1981)
1238│Resettlement camps
1249│Emergency humanitarian response (1979–1980)
1262│ F orced displacement and localised famine in the 1980s
1274│Retaliatory internment and collective punishment: Ataúro and
other internment camps
1285│Alternatives to internment on Ataúro: Raifusa and Dotik
1292│ D isplacement before and after the Popular Consultation,
1999
1294│Initial turbulence (November 1998–March 1999)
1299│First mass displacements, April 1999
1308│The quiet before the storm (May–August 1999)
1313│Massive displacement and deportation, September 1999
1333│Refugees in West Timor
1337│Returning home
1338│ F indings
1340│The internal conflict August–September 1975
1341│The invasion
1343│Food crops and livestock destroyed
1344│Life and death in the mountains
1346│Camps and settlements under Indonesian military control
1347│Humanitarian aid
1348│Strategic relocation villages and internment
1349│Displacement before and after the Popular Consultation in 1999
Contents of volume 3
Part 7.4. Arbitrary Detention, Torture
and Ill-treatment
1379│Introduction
1380│Definitions and legal principles
1380│Arbitrary detention
1380│Arrest
1380│Detention and imprisonment
1381│Torture
1381│Cruel, inhuman or degrading treatment (ill-treatment)
1382│Distinguishing between ill-treatment and torture
1383│Prohibitions under domestic law on assault and mistreatment
1383│Patterns of detention, ill-treatment and torture over the mandate
period
1384│Patterns over time
1385│Patterns over space
1386│The victims
1387│Gender
1387│Affiliation
1387│Group size
1389│Institutional perpetrators
1391│Where people were detained
1391│Structure of the part and key findings
1392│Detention, torture and ill-treatment by UDT, 1975
1392│Detention, torture and ill-treatment by Fretilin, 1975
1392│Detention, torture and ill-treatment by Fretilin/Falintil, 1977–1979
1393│Detention, torture and ill-treatment by the Indonesian security
forces and collaborators, 1975–1979
1393│Detention, torture and ill-treatment by the Indonesian security
forces and East Timorese auxiliaries, 1980–1984
1393│Detention, torture and ill-treatment by the Indonesian security
forces and East Timorese auxiliaries, 1985–1998
1394│Detention, torture and ill-treatment by the Indonesian security
forces and East Timorese auxiliaries, 1999
1394│Detention and torture by UDT, 1975
1394│Introduction
1395│Statistical patterns
1396│Victims
1397│Arbitrary arrest
1398│Detention centres and cases of human rights violations
1398│Detention centres
1399│Dili
1401│Box: Manuel Agustinho Freitas, detention in Palapaço
1403│Ermera
1405│Box: Manuel Duarte, imprisoned in Aifu
1407│Bobonaro
1410│Manufahi
1410│Baucau
1411│Liquiçá
1412│Lautém
1413│Forced labour
1413│Detention, torture and ill-treatment by Fretilin,
August 1975–February 1976
1413│Introduction
1415│The Fretilin armed reaction
1415│The General Armed Insurrection
1416│Reasons for arbitrary detention
1417│Places of detention
1417│Dili
1419│Comarca Balide
1420│Aileu
1421│Manufahi
1423│Ermera
1425│Ainaro
1425│Baucau
1426│Lautém
1427│Liquiçá
1427│Viqueque
1428│Manatuto
1429│Bobonaro
1429│The period of Fretilin administration
1430│Continuing detention of UDT supporters
1431│The detention of Apodeti supporters and members
1432│Movement of detainees between detention centres
1434│Box: Life in Aissirimou
1436│Trials of Fretilin detainees
1438│Following the full-scale Indonesian invasion
1439│Box: Escaping the Balide Comarca, 7 December 1975:
Anselmo dos Santos and Frederico Almeida Santos
1441│The movement of prisoners from Dili to Aileu and then to Same
1443│Hola Rua (Same, Manufahi)
1444│Detention, torture and ill-treatment by Fretilin/Falintil, 1976–1979
1446│Justice under the Fretilin administration
1447│Reasons for detention
1447│Treason by planning to surrender or contacting people in ABRI
areas
1450│Box: Detention of Father Luis da Costa
1452│Internal armed conflicts
1452│Conflict between Helio Pina and José da Silva, October 1976
1454│Disputes in Iliomar, Lautém, November 1976
1454│Box: Fretilin internal conflict in Iliomar, November 1976
1456│Dispute between Francisco Xavier do Amaral and the CCF,
September 1977
1456│Box: The detention and torture of Francisco Xavier do Amaral
1459│Enforcing discipline
1460│Renals and other Fretilin detention centres
1462│Ermera
1462│Viqueque
1463│Lautém
1665│Aileu
1466│Box: The Nundamar Renal in Remexio, Aileu
1470│Box: The detention of Ambulan
1471│Manufahi
1471│Box: The detention of Tomé da Costa Magalhães
1473│Liquiçá
1474│Box: Violence in the Fretilin zones
1475│Arbitrary detention, torture and ill-treatment by the Indonesian
occupation authorities, 1975–1979
1475│Introduction
1475│Profile of violations: 1975 to 1979
1477│Perpetrators
1479│Detentions during the invasion
1479│August–November, 1975
1480│Dili
1480│The invasion
1481│The days following the invasion
1484│Box: Detention centres in Dili
1488│Early patterns of detention
1490│Victims targeted for detention
1491│Box: Allegiance to Indonesia
1491│Interrogation, torture and other cruel and inhuman treatment
1492│Box: Interrogation in Dili
1494│Takeover of other areas
1495│Community divisions
1496│Detention outside Dili
1497│Box: Case study: detention centres in the city of Baucau
1499│Securing the territory, 1976–1979
1500│Development of intelligence networks
1501│Detention of Resistance fighters
1502│Detention for being part of a Falintil attack
1503│Box: Released but not free
1505│Detention of clandestine members
1505│Box: The breaking of a clandestine network
1508│Box: Interrogation of a clandestine member
1509│Detention due to family members in the forest
1511│Detentions after surrender or capture
1511│Early surrenders
1512│Box: Story of an East Timorese translator during interrogations
1514│Mass surrenders: 1978–1979
1517│Box: Detention in Uma Metan Camp, Alas, Manufahi
1519│Capture of communities: 1978–1979
1520│Detentions after returning home
1521│Box: Framing of a former Fretilin leader
1522│Conclusion
1523│Detentions by the Indonesian occupation authorities, 1980–1984
1523│Introduction
1524│Profile of violations
1528│The Marabia uprising (levantamento), Dili, 10 June 1980
1528│Arbitrary detention
1529│Torture and ill-treatment
1530│Box: The detention and torture of Bernardino Ximenes Villanova
1532│Transfer of political detainees to the island of Ataúro
1534│Box: Ataúro
1537│Operation Security (Operasi Keamanan), 1981
1540│After Operation Security
1541│Late 1982 – Falintil levantamento around Mount Kablaki
1542│Early arrests
1542│Following the levantamento
1542│Arrest
1544│Detention and interrogation
1544│Torture and other cruel, inhuman and degrading
treatment
1545│Village detention
1547│Forced displacement after the attacks
1548│Detention during the ceasefire, March to August 1983
1549│The breakdown of the ceasefire and Operation Unity,
August 1983
1550│Kraras
1552│Uato Carbau
1552│Iliomar
1553│Mehara
1555│Box: Maria's story
1555│Torture and iIl-treatment
1556│Aftermath of the levantamento
1556│Transfer of detainees out of the area
1557│Village detention in Lalerek Mutin, Viqueque
1557│Mass detentions in Lautém
1558│Operation Security (Operasi Keamanan) in other districts of
Timor-Leste
1560│Aileu, 1983
1561│Box: Prisons in Indonesia, 1983 to the late 1990s
1563│Arrests of members of the urban clandestine movement
1565│Box: Arrest and interrogation in Dili late 1983
1566│Arbitrary detention, torture and ill-treatment in 1984
1569│Detentions and torture by the Indonesian occupation
authorities, 1985–1998
1569│Introduction
1570│Profile of violations
1570│Violations over space
1571│Detention and torture
1572│Perpetrator affiliation
1572│Detention of clandestine members
1573│1985 to 1998
1575│Box: Prisons in Timor-Leste
1577│1989 to 1998
1578│Box: Detention of a clandestine leader
1581│Box: Clandestine arrests in Dili
1582│The arrest of clandestine members in Indonesia
1582│Demonstrations
1583│Arrests in anticipation of a demonstration
1583│The visit of Pope John Paul II
1584│The Portuguese parliamentary delegation
1586│Arrests at or after an event
1586│The Mass at Tacitolu by Pope John Paul II
1587│Visit of the US Ambassador John Monjo
1588│SMPN IV School, Dili
1588│Santa Cruz demonstration
1590│Box: Detention for guidance
1591│Cancelled visit of the Portuguese parliamentary
delegation
1592│Box: The rise of the militias, 1985–1998
1595│Interrogation and torture of victims connected to demonstrations
1598│Box: Interrogation after the Santa Cruz demonstration
1599│Demonstration in Jakarta, 19 November 1991 and the Bali
arrests
1601│Untim demonstrations
1602│SARA and civil unrest
1604│Incidents after the award of Nobel Peace Prize
1605│Box: Ninja gangs and anti-ninja gangs
1606│The hunt for Falintil leaders in the 1990s
1608│Box: Xanana Gusmão's arrest
1610│Box: Olga Corte-Real's story
1611│Reprisals for Resistance attacks
1611│Baucau, October 1992
1612│Ermera, October 1996
1613│Attacks around the time of the 1997 Indonesian national election
1614│Arrests following the Dili attack
1615│Arrests following the attack in Quelicai (Baucau)
1619│Box: Police
1620│Liquiçá, July 1997
1621│Two Falintil incidents in Alas (Manufahi), late 1998
1621│The first attack
1623│The second attack
1623│Detention, torture and ill-treatment by the Indonesian
occupation authorities, 1999
1626│Statistical profile of detention, torture and ill-treatment in 1999
1626│Patterns over time for both detention and torture
1627│Patterns over space
1627│Length of detention
1627│Targeted groups in 1999
1628│CNRT members
1628│Clandestine members
1628│Student activists
1629│UNAMET staff
1629│Perpetrators
1631│Detention locations
1632│Reasons for detention and torture
1632│Forcible recruitment of militia
1633│Assertion of pro-autonomy forces' authority over the community
1633│Retaliation against Resistance attacks
1633│Punishment of individuals who openly declared support for
independence
1634│Obtaining intelligence about pro-independence leaders and
structures
1634│Transportation of civilians and capture of those fleeing
1634│Detentions and torture, November 1998–March 1999
1634│Before the announcement of the Popular Consultation
1636│After announcement of two options
1637│Dilor, Viqueque, 20 March
1638│Maliana, Bobonaro, March 1999
1638│Zumalai, Covalima, March 1999
1638│Detentions and torture in April 1999
1639│Liquiçá, April 1999
1640│Ermera, April 1999
1641│Covalima, April 1999
1643│Cailaco, Bobonaro, April 1999
1644│Oecussi, April 1999
1645│Dili, 17 April 1999
1646│Viqueque, April 1999
1647│Molop, Bobonaro, 24 April 1999
1647│May 1999
1648│Falintil attack in Lolotoe, Bobonaro, May 1999
1650│Ermera, May 1999
1651│Continuing search for clandestine members
1653│Box: Identifying marks
1653│Manatuto, the involvement of the district administrator
1654│Detentions and torture between June and 30 August, the day
of the Popular Consultation
1656│Detentions and torture after the Popular Consultation
1657│After the Popular Consultation
1658│Punishment and revenge
1659│Cases of detention before evacuation
1659│Detention of individuals targeted for execution
1660│Release
1660│Reporting requirements
1661│Bribes
1662│Intervention by others
1662│Escape
1662│Torture and ill-treatment in 1999
1663│Humiliation and degradation
1663│Public violence
1664│Verbal abuse
1664│Other cruel and degrading treatment
1665│Conclusion
1665│Findings
1665│Detentions, torture and ill-treatment by UDT
1665│Detention
1666│Ill-treatment and torture
1667│Detentions, torture and ill-treatment by Fretilin
1667│During the internal armed conflict
1667│Detention
1669│Torture and ill-treatment
1671│1976–1979
1671│Detention
1672│Torture and ill-treatment
1673│Detentions, torture and ill-treatment by the Indonesian military,
police and agents
1673│Arrest and detention
1675│Conditions of detention
1678│Interrogation
1679│Torture and ill-treatment
1683│Release
Part 7.5. Violations of the Laws of War
1717 │ Introduction
1721 │ Relevant standards
1722 │ Violations of the laws of war by Indonesian military forces
1722 │ Attacks on civilians and civilian properties
1728 │ Box: The bombs came from the sky, or the coast and the ground
1731 │ Economic and property violations –collateral damage or
deliberate strategy?
1732 │ 1975–1977
1734 │ 1978–1979
1735 │ 1980s
1737 │ 1990s
1739 │ Destruction in 1999
1743 │ Mistreatment of enemy combatants
1743 │ Box: Status of Falintil
1746 │ Unlawful means of warfare
1751 │ Forced recruitment into military activity
1753 │ Patterns of recruitment
1755 │ Work as a TBO–risks and dangers
1757 │ TBOs in Operation Kikis, 1981
1758 │ Forced to look for family in the forest
1761 │ Tombak (Spear) Troops
1762 │ Forced night watch and patrol
1765 │ Violations of the laws of war by Fretilin/Falintil
1770 │ Attacks on civilian objects
1770 │ Findings
1770 │ Findings concerning the Indonesian armed forces
1773 │ Findings concerning Fretilin/Falintil
Part 7.6. Political Trials
1789 │ Introduction
1790 │ Legal framework
1791 │ Indonesian law
1792 │ International humanitarian law
1792 │ International human rights standards
1793 │ Analytical framework
1793 │ The first wave of political trials, 1983–1985
1793 │ Background
1796 │ Formal legal processes
1797 │ Informing defendants of their basic rights
1799 │ Torture and ill-treatment in detention
1800 │ Record of Interrogation (RoI)
1802 │ Trial
1802 │ Indictment
1805 │ Courtroom conditions
1806 │ Witness testimony
1807 │ The right to defence counsel of choice, and to an effective defence
1811 │ The presumption of innocence
1812 │ Independence and impartiality of the tribunal
1812 │ Right to appeal
1813 │ Conclusions
1815 │ The Santa Cruz trials, 1992
1815 │ Factual overview
1815 │ Background
1816 │ Findings of fact as determined by the court during the trials
1817 │ Facts according to independent sources
1817 │ Arrest
1818 │ Pre-trial
1818 │ Conditions at the Comoro Police headquarters (Polda)
1820 │ Investigation
1820 │ Information seeking
1821 │ Illegal methods of seeking confessions
1821 │ Fabrication of evidence
1822 │ Access to a lawyer
1825 │ Trial
1825 │ Indictment
1825 │ Courtroom conditions
1826 │ Witnesses
1828 │ Evidence
1829 │ Prosecution
1830 │ Defence
1833 │ Judges
1835 │ Decisions
1836 │ Appeal
1837 │ Imprisonment
1838 │ Trials and punishment of Indonesian security personnel
involved in the Santa Cruz massacre
1838 │ Conclusions
1842 │ The Jakarta trials, 1992
1843 │ Arrest
1843 │ Arrests in Jakarta
1844 │ The arrest in Denpasar, Bali
1845 │ Pre-trial detention
1846 │ Conditions of detention in Jakarta
1846 │ Conditions of detention in Denpasar, Bali
1847 │ Access to a lawyer
1848 │ Investigation
1849 │ Trial
1849 │ Indictment
1849 │ The charges against João Freitas da Camara
1850 │ The charges against Fernando de Araujo
1851 │ Courtroom conditions
1852 │ Witnesses
1852 │ Evidence
1852 │ Performance of defence counsel
1853│ Substance of the defence
1853 │ Decisions and sentences
1854 │ Appeal
1855 │ Conclusion
1856 │ The trial of Xanana Gusmão, 1993
1857 │ Pre-trial
1857 │ Arrest
1858 │ Pre-trial detention
1860 │ Investigation
1861 │ Access to a lawyer
1864 │ Trial
1864 │ Indictment
1865 │ Court-room conditions
1866 │ Language
1867 │ Witnesses
1869 │ Performance of defence counsel
1871 │ Xanana Gusmão's defence plea
1873 │ Judges
1875 │ Application for clemency
1876 │ Judicial review
1876 │ The sentence
1877 │ Conclusion
1878 │ The Mahkota trial, 1997
1879 │ Arrest
1880 │ Pre-trial detention
1882 │ Access to a lawyer
1883 │ Investigation
1884 │ The trial
1884 │ Indictment
1886 │ The openness of the trial
1886 │ Witnesses
1887 │ Evidence
1887 │ Performance of defence lawyers
1888 │ The defence case
1889 │ Performance of judges
1890 │ Decision and sentences
1891 │ Appeal
1891 │ Conclusion
1892 │ Findings
Part 7.7. Rape, Sexual Slavery and Other
Forms of Sexual Violence
1913 │ Introduction
1916 │ Definition and methodology
1918 │ Culture of silence
1919 │ Rape
1921 │ Rape in the context of inter-party conflict (1975)
1921 │ Rape by UDT party members
1921 │ Rape by members of Fretilin and Falintil
1922 │ Rape during the Indonesian occupation (1975–1999)
1923 │ Rape by members of Falintil
1924 │ Rape by members of the Indonesian armed forces and their
auxiliaries: during the invasion and large-scale operations
(1975–1984)
1925 │ A. Rape at the time of surrender (1975–1979)
1927 │ B. Gang rape as part of military attacks
1928 │ C. Rape at military installations
1928 │ Box: Rape at the Uatolari Koramil (Sub-district Military Command Post)
1979–1981
1931 │ Box: Rape of male detainees
1934 │ Box: Rape of female detainees in the Flamboyan Hotel
1938 │ D. Other rapes
1940 │ Rape during consolidation of the occupation (1985–1998)
1940 │ A. Rape in detention
1942 │ B. Rape without legal recourse
1945 │ C. Rape in and around the victim's home
1947 │ Box: Testimony and evidence from Mário Viegas Carrascalão on
violence against women from 1982 to 1992
1949 │ Rape and the Popular Consultation
1950 │ A. Rapes before the Popular Consultation (April–August 1999)
1954 │ B. Rapes after the announcement of the Popular
Consultation results (September–October 1999)
1957 │ Box: The rape and killing of ZE, 11 September 1999
1960 │ Box: Rape and sexual slavery after the Suai Church Massacre,
6 September 1999
1967 │ Sexual slavery
1969 │ The victim's perspective
1970 │ Sexual slavery in the context of inter-party conflict
1971 │ Sexual slavery during the Indonesian occupation (1975–1999)
1971 │ Sexual slavery during the invasion and large-scale operations
(1975–1984)
1971 │ A. Military sexual slavery in military installations
1975 │ B. Military sexual slavery outside military installations
1976 │ C. Domestic sexual slavery
1979 │ D. Consecutive domestic sexual slavery
1982 │ E. Case study: rape and sexual slavery in Mau Chiga, Ainaro
1983 │ E.1 Internment in Dare, Ainaro
1990 │ E.2 Internment on the island of Ataúro, Dili
1991 │ E.3 Internment in Dotik (Alas, Manufahi)
1992 │ Box: Testimony of XH, Mau Chiga, Hato Builico, Ainaro
1995 │ Sexual slavery during consolidation of the occupation (1985–1998)
1996 │ Box: Testimony of MI, Lalerek Mutin, Viqueque
1999 │ Sexual slavery by members of Falintil
1999 │ Sexual slavery and the Popular Consultation (1999)
2000 │ Box: Rape and sexual slavery by Halilintar militia in Atabae,
Bobonaro
2006 │ Other forms of sexual violence
2006 │ Other forms of sexual violence in the context of inter-party conflict
2007 │ Other forms of sexual violence during the Indonesian occupation
(1975–1999)
2007 │ Sexual torture and humiliation in detention
2012 │ Box: Testimony of DK, Mehara, Tutuala
2015 │ Photographing of detainees
2018 │ Public sexual humiliation
2020 │ Sexual harassment
2022 │ The impact of sexual violations on victims
2023 │ Reproductive health
2024 │ Unsafe abortions
2025 │ Mental health
2027 │ Spiral of victimisation
2027 │ Self-blame
2028 │ Blaming the victim
2029 │ Loss of virginity, loss of marriage opportunities
2030 │ Survival and discrimination against children
2032 │ Marital separation or reconciliation
2033 │ Findings
2033 │ Sexual violations by members of Fretilin and UDT
2034 │ Sexual violations by members of Falintil
2034 │ Rape and sexual torture by members of the Indonesian security
forces
2037 │ Impunity for perpetrators of rape and sexual torture
2038 │ Sexual slavery
2039 │ Impunity for perpetrators of sexual slavery
2039 │ Sexual violations as a tool of terror and degradation
2040 │ Total number of victims of sexual violations
2040 │ Impact on victims
Part 7.8. Violation of the Rights of the Child
2055 │ Introduction
2059 │ Research methods
2059 │ Children in the armed political conflicts and the clandestine
movement
2061 │ Children as TBOs and on operations
2062 │ Patterns of recruitment of TBOs
2063 │ Box: The status of TBOs in the military
2064│ The number of child TBOs
2065 │ Why ABRI recruited children as TBOs
2067 │ Reasons for joining
2067 │ Coercion
2069 │ Duties
2070 │ Conditions and treatment
2071 │ Box: The everyday life of a TBO:
"If we died, it didn't matter"
2072 │ Fatalities
2074 │ Payment
2074 │ Post-service
2075 │ Children on operations: Operation Security
2077 │ Children recruited by pro-autonomy militias
2078 │ Methods of recruitment
2081 │ Activities
2082 │ Child militia members killed or disappeared
2082 │ Impact
2083 │ Children in the clandestine network
2084│ How children became involved
2086 │ Reasons for joining the Resistance
2087 │ Impact
2087 │ Estafeta
2089 │ Children as spies and lookouts
2090 │ Campaigning
2093 │ Children in Falintil
2093 │ Recruitment
2093 │ 1975–1979
2097 │ 1980–1989
2098 │ 1990–1999
2098 │ Training
2099 │ Risks involved in joining Falintil
2100 │ Demobilisation and conversion to FDTL
2101 │ Arbitrary detention, killings and sexual violence perpetrated
against children
2101 │Arbitrary detention and torture
2101 │ Introduction
2101 │ Patterns of detention of minors
2104 │ Detentions by the Indonesian authorities
2104 │ 1975–1979
2106 │ 1980–1988
2108 │ Box: A child on Ataúro
2111 │ 1989–1998
2112 │ Box: The testimony of Naldo Gil da Costa
2113 │ 1999
2114 │ Detentions by UDT
2115 │ Detentions by Fretilin
2117 │Killings and disappearances
2117 │ Introduction
2117 │ Profile of violations
2120 │ Invasion and military operations
2120 │ 1975–1979
2122 │ 1980–1988
2123 │ 1989–1998
2124 │ 1999
2126 │ Killings of children by Fretilin and Falintil
2126 │ The period of party conflict
2128 │ 1975–1979
2129 │ Falintil attacks
2130 │Sexual violations
2131 │ Patterns of violations
2132 │ 1974–1979
2134 │ 1980–1989
2135 │ Box: Prosecution of rape of a minor, Dili Court, 1982
2138 │ 1990–1998
2138 │ 1999
2139 │ Box: ZM (as told by her aunt, ZM1, in November 1999)
2141│ The transfer of children to Indonesia
2143 │ The number of children sent to Indonesia
2144 │ Patterns over the mandate period
2144 │ 1976–1979
2144 │ Children taken by individual soldiers
2145 │ Box: The Seroja Orphanage
2147 │ Box: Yuliana (Bileki)
2148 │ Box: Abduction of a baby in Ermera
2150 │ Box: Forced adoption: Aida's story
2150 │ Was the removal of children official military policy?
2151 │ Transfer by government officials and charitable
organisations
2152 │ Box: "The President's Children"
2153 │ 1980–1989
2154 │ Box: The case of Thomas da Costa
2155 │ Religious institutions and the transfer of children
2156 │ 1990–1998
2156 │ Children taken by religious institutions
2157 │ Programmes of the Ministries of Education and
Manpower
2158 │ 1999
2161 │ Conditions for children living in Indonesia
2162 │ Loss of cultural identity
2163 │ Mistreatment
2163 │ Box: Alfredo Reinado Alves' story
2165 │ Findings and conclusion
2166 │ Children in armed conflict and the clandestine movement
2166 │ Children used by the Indonesian military as TBOs (Operations
Assistants)
2167 │ Children in Falintil and in clandestine movement
2168 │ Children recruited by pro-autonomy militias in 1999
2169 │ Inhuman treatment of children
2169 │ Arbitrary detention
2171 │ Arbitrary killing of children
2173 │ Sexual violence committed against children
2175 │ The transfer of children to Indonesia
Part 7.9. Economic and Social Rights
2191│ Introduction
2194 │Box: The duties of an occupying power relating to social
and economic conditions
2195 │ The Commission's work on economic and social rights
2195 │ Social and economic rights and other rights
2197│ The right to an adequate standard of living
2197 │ Development and government spending
2202 │ The coffee sector
2203 │ Management of the coffee sector under Indonesian administration
2204 │ The value of the coffee sector
2208 │ Military involvement in the East Timorese economy
2208 │ Right of a people to dispose of natural resources
2208 │ Sandalwood
2209 │ Forest cover
2210 │ The Timor Sea
2211 │ The right to food
2213 │ Box: Economic and social impacts of "resettlement camps"
2216 │ Housing and land
2219 │ Box: Economic effects of the 1999 scorched earth policy
2221 │ Right to health
2221 │ The meaning of the "right to health"
2222 │ Public health under Portuguese rule
2223 │ The Indonesian occupation
2223 │ Infant and mother mortality and child development
2224 │ Reduction of disease
2225 │ Access to health services
2226 │Box: Economic and social impact of displacement to
West Timor in 1999
2227 │ Coerced birth control
2233 │ Mental health and trauma
2235│ Box: Forced recruitment
2237 │ Right to education
2237 │ Box: The right to education
2243 │ Findings
2243 │ General findings
2244 │ Specific findings
2244 │ The right to an adequate standard of living
2244 │ Development and government spending
2244 │ Rights over natural resources
2245 │ The right to adequate food
22245 │ Housing and land
2245 │ Rights to health and education
Contents of volume 4
Contents
xi │ Map of Timor-Leste
2253 │ Part 8: Responsibility and Accountability
2262│Introduction
2261│State, institutional and individual responsibility
2264│Legal killings and detentions
2265│The focus on institutional responsibility
2265│Principal findings
2265│The State of Indonesia and the Indonesian security forces
2268│The systematic programme of violations in 1999
2269│Principal findings on the responsibility of Fretilin
2270│Principal findings on the responsibility of the UDT political party
2272│Principal findings on the responsibility of the Apodeti political
party
2272│Principal findings on the responsibility of the KOTA and
Trabalhista parties
2273│Methodology for identification of institutional
responsibility
2275│Perpetrator identification in the human rights violations
database
2276│Responsibility and accountability of the Indonesian
security forces
2277│Evidence relied on in this section
2277│Violations committed by members of the Indonesian security
forces
2315│Individual responsibility for widespread and systematic
violations
2315│High-level responsibility
2330│Responsibility and accountability of the East Timorese
political parties
2332│The responsibility and accountability of Fretilin/Falintil
2345│The responsibility and accountability of the UDT political party
2351│The responsibility and accountability of the Apodeti party
2352│The responsibility and accountability of the Trabalhista and
KOTA parties
2353│State responsibility
2353│Responsibility of the State of Indonesia
2355│Responsibility of the State of Portugal
2357│Responsibility of the State of Australia
2358│Responsibility of the United States of America
2360│Responsibility of the United Nations
2361│Annexe 1: Responsibility of the Indonesian security forces
for violations committed in 1999
2361│Introduction
2365│Responsibility of the TNI for the violations
2365│Members of the TNI as direct perpetrators of violations
2367│The responsibility of the TNI for the actions of militia groups
2378│TNI knowledge, threats and warnings before the mass violence
in September 1999
2379│The failure of the TNI to punish perpetrators/institutional
rewards to those involved
2381│The role of members of the Indonesian police
2382│Collaboration and participation of officials of the Indonesian
local and central government
2384│Findings and conclusions
2385│Conclusions
2386│Annexe 2: Command responsibility
2406│Annexe 3: Persons with high-level command responsibility
2413│Annexe 4: Careers of selected Indonesian officers who
served in Timor-Leste
2421 │ Part 9: Community Reconciliation
2427│Introduction
2427│Overview of this part
2429│Background
2434│Origins of the Community Reconciliation Process/CRP
2437│The Community Reconciliation Process
2437│Objectives of the process
2438│The procedural framework
2442│CRP's reliance on both lisan and law
2442│Implementation of the CRP programme
2442│Staff
2443│Timeline
2443│Initial challenges
2444│Community involvement
2445│The CRP hearing
2453│The role of lisan in the hearings
2460│Results of the CRP programme
2460│Overall
2464│Number of deponents in a CRP
2464│Actions dealt with by CRP
2464│Acts of reconciliation
2466│The effectiveness of the CRP programme
2466│Reintegrating perpetrators into their communities
2468│Restoring the dignity of victims
2468│Establishing the truth about human rights violations
2471│Promoting reconciliation
2472│Lessons learned
2474│Broader impacts of the CRP programme
2474│CRP as a symbol of the end of the conflict
2475│Contribution to the fight against impunity
2477│CRP's contribution to capacity building
2478│CRP: a unique approach to justice
2481│Reflections
2481│Conclusion
2482│Unfinished business
2483│The future of the CRP
2487 │ Part 10: Acolhimento and Victim Support
2493│Introduction
2494│Structure of the Unit
2494│Interpretation
2498│Reception and outreach
2498│Background
2500│Monitoring recent returnees
2503│Outreach to West Timor
2512│Restoring the dignity of victims
2512│Introduction
2513│Public Hearings
2526│Healing workshops
2536│Urgent reparations
2544│Community profiles
2560│Lessons learned
2567│ Part 11: Recommendations
2573│Introduction
2573│Recommendations
2575│Timor-Leste and the international community
2577│Timor-Leste and Portugal
2578│Human rights in Timor-Leste: promoting and protecting all
rights for all
2585│Human rights at home: promoting and protecting the rights of
the vulnerable
2588│Human rights at home: promoting and protecting human rights
through effective institutions
2593│Human rights at home: security services that protect and
promote human rights
2597│Justice and truth
2604│Reconciliation
2606│Reconciliation in the East Timorese political community
2607│Reconciliation with Indonesia
2610│Acolhimento (Reception)
2612│Reparations
2622│Follow-on institution to the CAVR
Contents of volume 5
2625 │ Annexe 1: Timor-Leste 1999:
Crimes against Humanity —
Report Commissioned by the United Nations Office of the High
Commissioner for Human Rights (OHCHR) by Geoffrey Robinson, UCLA
2633│Preface
2636│ Executive summary
2637 │Method and mandate
2638│Outline and conclusions
2640│Historical and political context
2640│Indonesian invasion and occupation
2643│Resistance
2644│International response
2646│Breakthrough in Indonesia
2648│UNAMET and the Popular Consultation
2651│Indonesia: power and strategy
2652│The Indonesian Armed Forces
2656│The Militias
2658│The Indonesian Police
2659│The civilian government and the 'socialisation' campaign
2661│Pro-autonomy political parties
2662│Specialised government bodies
2664│Violations, victims and perpetrators
2665│Types of violation
2669│Chronology of violations: three periods
2672│Victims
2677│The perpetrators
2680│Patterns and variations
2680│Temporal variation – turning off the faucet
2685│Police inaction and complicity
2688│Militia modus operandi
2691│Geographical variations
2695│Six key documents
2695│Operation Clean Sweep
2697│The Tavares Document
2698│The Garnadi Document
2700│The East Timor Integration Savior Brigade Telegram
2702│Operation Pull-Out
2705 │Militias: history, formation and legal recognition
2706 │Historical patterns
2710 │Militia formation
2716 │Political and legal recognition
2721 │Militias: recruitment, training, operations and weapons
2721 │Recruitment and membership
2724 │Training
2726 │Operations
2729 │Weapons: testimonial evidence
2733 │Weapons: documentary evidence
2736 │Militias: funding and material support
2736 │'Socialisation' and militia funding
2740 │Sources of government funding
2745 │TNI funding and material support
2748 │FPDK as funding channel
2749 │Militia budgets
2752 │District summaries
2752 │Aileu (Kodim 1632)
2755 │Ainaro (Kodim 1633)
2759 │Baucau (Kodim 1628)
2762 │Bobonaro (Kodim 1636)
2768 │Covalima (Kodim 1635)
2771 │Dili (Kodim 1627)
2777 │Ermera (Kodim 1637)
2782 │Lautém (Kodim 1629)
2786 │Liquiçá (Kodim 1638)
2792 │Manatuto (Kodim 1631)
2797 │Manufahi (Kodim 1634)
2800 │Oecussi (Kodim 1639)
2802 │Viqueque (Kodim 1630)
2805 │Case studies: major human rights incidents
2806 │Liquiçá church massacre (6 April 1999)
2810 │Cailaco killings (12 April 1999)
2813 │Carrascalão house massacre (17 April 1999)
2818 │The killing of two students at Hera (20 May 1999)
2819 │Arbitrary detention and rape in Lolotoe (May-June 1999)
2821 │Attack on UNAM ET Maliana (29 June 1999)
2824 │Attack on humanitarian convoy (4 July 1999)
2828 │Murder of UNAM ET staff members at Boboe Leten (30 August 1999)
2831 │Forcible relocation and murder of refugees in Dili (5-6 September
1999)
2835 │Suai church massacre (6 September 1999)
2839 │Maliana Police Station massacre (8 September 1999)
2844 │The Passabe and Maquelab massacres (September-October 1999)
2846 │Rape and murder of Ana Lemos (13 September 1999)
2849 │The Battalion 745 rampage (20-21 September 1999)
2854 │Murder of Lospalos clergy (25 September 1999)
2856 │Individual and command responsibility
2857 │Individual criminal responsibility
2860 │Command responsibility
2871 │International responsibility
2871 │International responsibility
2876 │UN responsibility: the question of justice
2906 │Note on sources
2907 │Note on the author
2909 │ Annexe 2: Data and statistical methods
2915 │Introduction
2915 │Relevance of empirical data analysis to the Commission's mandate
2916 │Data sources
2917 │The Human Rights Violations Database (HRVD)
2924 │Retrospective Mortality Survey (RMS)
2927 │Graveyard Census Database (GCD)
2928 │Methodological description of data editing, cleaning and
name normalisation techniques
2928 │Database cleaning and editing
2929 │Date editing and cleaning
2929 │Age editing and cleaning
2930 │Violation and relationship codes editing and cleaning
2930 │Geographic location code editing and cleaning
2930 │GCD de-duplication of cemeteries and graves
2931 │Name-cleaning processes
2934 │Data conversion
2935 │Record linkage overview
2935 │Matching rules
2938 │Intra-system matching
2941 │Inter-system matching
2944 │Data processing of reported violations involving groups
of anonymous victims
2946 │Statistical estimation techniques used in the analysis of
fatal violations and displacements
2946 │RMS weight calculations
2947 │RMS date assignment for displacement analysis
2948 │RMS weight adjustments for mortality estimates
2949 │Sensitivity analysis of assumptions in mortality re-weighting
2950 │Multiple Systems Estimation (MSE): motivation and theory
2952 │Allocating GCD by type of death
2953 │Sensitivity analysis of the loss of social knowledge: adjustments
for underestimates
2957 │ Annexe 3: Indictment Summaries
2964│Indictment summaries by district
2964│Aileu
2965│Ainaro
2967│Baucau
2968│Bobonaro
2978│Covalima
2986│Dili
2992│Ermera
2994│Lautém
2997│Liquiçá
2999│Manatuto
3000│Manufahi
3002│Oecussi
3007│Viqueque
3008│West Timor
3008│National indictment
3011 │ Annexe 4: Acknowledgements
3013│Introduction
3014│Donors
3015│Submissions
3016│Participants in National Public Hearings
3020│The CA VR Community
3040│Those who gave statements to CA VR
3040│Those who participated in CRP
3040│Participants in healing workshops
3047 │ List of Terms and Abbreviations
3071 │ Index
Área de condiciones de acceso y uso
Notas sobre las lenguas y escrituras
Características físicas y requisitos técnicos
Instrumentos de descripción
Área de materiales relacionados
Existencia y localización de originales
Existencia y localización de copias
Unidades de descripción relacionadas
Área de notas
Identificador/es alternativo(os)
Puntos de acceso
Puntos de acceso por materia
Puntos de acceso por lugar
Puntos de acceso por autoridad
Área de control de la descripción
Fechas de creación revisión eliminación
Objeto digital (Ejemplar original), área de permisos
Objeto digital (Referencia), área de permisos
Objeto digital (Miniatura), área de permisos