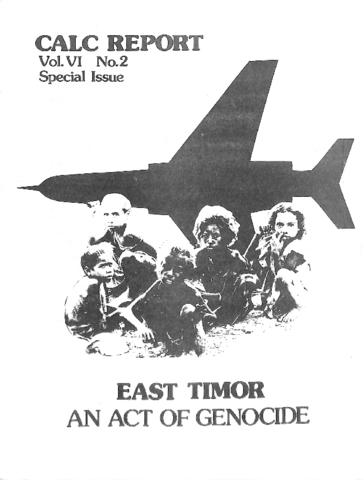 Area Identitas
Judul
CALC Report Vol. VI, no. 2 (Special Issue): East Timor, An Act of Genocide
Area Konteks
Nama Pencipta
Sejarah Administratif
Clergy and Laity Concerned has a long history in the Untied States social justice movement. It was the first US group to take up East Timor as a cause, under the leadership of Jacqui Chagnon. Its Timor papers were transferred to Arnold Kohen and can be found in The Humanitarain project collection.
Sumber akuisisi atau transfer langsung
Area Isi dan Struktur
Cakupan dan isi
Item is a special issue of the Clergy and Laity Concerned (CALC) Report (Vol. VI, no. 2) entitled "East Timor: An Act of Genocide", published in March 1980.
Contents:
East Timor: four years of genocide (by the Asian Center Staff)
Words of resistance
U.S. Responsibility
Action Suggestions
Resources
Trouble in the Heartland (by Michael G. Matejka)
Nuclear Victims Go On U.S. Tour
News from Chapters & Friends: Southeast Region, New England Region, Upstate New York Region, Upper Midwest Region, Central Region, Midwest Region
Coalition for a Non-Nuclear World Sponsors Actions in D.C., April 25-28
Kondisi dari area akses dan penggunaan
Penentuan Kondisi reproduksi
Catatan Bahasan dan Naskah
Karakter fisik dan persyaratan teknis
Area Materi Arsip Sekutu
Keberadaan dan lokasi dari original
Originals found at Bishop's University.
Keberadaan dan lokasi dari salinan
Berkas Arsip yang berkaitan
Deskripsi Area Kontrol
Tanggal penciptaan revisi pemusnahan
Metadata Objek Digital
Namaberkas
CALC_Report_Vol_VI_No.2_Special_Issue.pdf
Terupload
18 Juni 2019 18:12
Bagian hak Objek Digital (Master)
Bagian hak Objek Digital (Reference)
Bagian hak Objek Digital (Thumbnail)