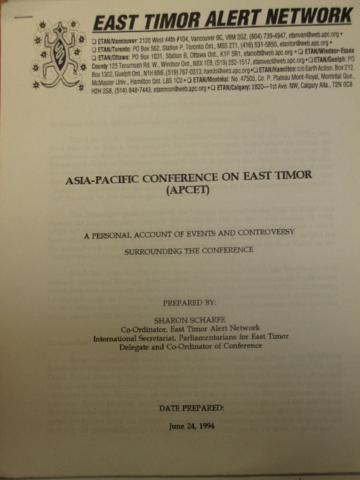 Área de identidad
Código de referencia
CAETAN-DOCS-APCET 1994--1
Título
Asia-Pacific Conference on East Timor
Área de contexto
Nombre del productor
(1986-2000)
Historia administrativa
East Timor (Timor-Leste) was invaded in 1975 by Indonesia and occupied by the Indonesian armed forces until 1999, with widespread resulting human rights violations. The East Timor Alert Network (ETAN/Canada) was founded in 1986 to raise awareness about the situation of East Timor and to change Canadian government policy, which accepted Indonesian rule.
Origen del ingreso o transferencia
Área de contenido y estructura
Alcance y contenido
The Asia- Pacific Conference on East Timor was held in May of 1994 in Manila. The goal of the conference was to bring into focus the Timorese's people's right to self-determination and consolidate its support network in the Asia-Pacific region.
This item contains:
A personal account of events and controversy surrounding the conference
Resolutions adopted at APCET
Remembering Dili
Statement to APCET regarding the implementation of the declaration of granting independence to colonial countries
A Powerplay Backfires (newspaper article)
Philippines decision to ban the entry of aliens that pose a danger to their country and a reply from ETAN
Canadian (Shannon Scharfe) faces arrest for attending conference on East Timor in the Philippines
Shannon Scharfe's statement regarding the arrest
Indonesia tries to suppress East Timor conference in the Philippines.
Foreigners banned from attending Asian Conference on East Timor
Área de condiciones de acceso y uso
Notas sobre las lenguas y escrituras
Características físicas y requisitos técnicos
Instrumentos de descripción
Área de materiales relacionados
Existencia y localización de originales
Originals found at McMaster University.
Existencia y localización de copias
Unidades de descripción relacionadas
Área de notas
Identificador/es alternativo(os)
Puntos de acceso
Puntos de acceso por materia
Puntos de acceso por lugar
Puntos de acceso por autoridad
Área de control de la descripción
Fechas de creación revisión eliminación
Objeto digital metadatos
Tamaño del archivo
66.2 MiB
Cargado
2 de mayo de 2019 09:34
Objeto digital (Ejemplar original), área de permisos
Objeto digital (Referencia), área de permisos
Objeto digital (Miniatura), área de permisos